POTTERS CUP WEEKEND 2021 with Photo Call
For many of the bowlers taking part in the Potters Cup Weekend 2021 at Potters Resort it was their first big event since the Government's lifting of restrictions. There was understandably some nervousness at first but bowlers quickly found that the safeguards put in place by Potters 5 Star Resort put them at their ease. The new booking-in procedures were in place to ensure that the venue was cleaned throughout following the departure of the previous guests, and once on the resort the bowlers were delighted to see bowling friends they had not met in ages. The new "all inclusive" style holiday also proved popular and made ordering drinks so much quicker in the bars. At the Welcome Meeting Co-organiser Teresa Goldsmith greeted everyone back to Potters and reminded everyone to use the sanitizers which were throughout the resort. Teresa informed bowlers that this was the 20th Anniversary of this very popular event
Potters Cup
The Potters Cup Triples event on Saturday saw John Jeffery, Debbie Sparham & Jon Sparham attempting to win the cup for three times in a row and they started the day as favourites. Playing as solidly as ever they reached the semi-finals where they met David Blundell, Karl Newby & Terry Newby. Sparham's triple took a single on the opening end but Newby's triple won the next three ends to lead 5-1. Back came Sparham's Wymondham triple to win the next three ends and lead 6-5 but a single for Newby on the penultimate end left them level at 6-6 going into the final end. A single for Newby's triple took them through to the final and the holders were eliminated. In the other semi-final Kerry Greenacre, Mike Greenacre and Keith Cooke met Hayley Osborne, Laura Hawksworth & Chris Mann. Cooke's triple took control of the game and led 10-1 after six ends and there was to be no way back for Mann's triple. In the Potters Cup Final Keith Cooke's triple won the first end after a tight measure and added another two shots on the second end. Two good woods by David Blundell put Terry Newby's triple in control of the third end with just the skips to bowl but a great driving bowl by Keith Cooke swept the jack into the ditch for a 4-0 lead. Karl Newby moved to skip for the fourth end and it paid off as they scored two shots to reduce the deficit to 4-2. Kerry and Mike Greenacre were playing well in Keith Cooke's triple and another great bowl by Mike helped them into a 5-2 lead. Newby's triple pulled a shot back on the sixth end but on the seventh Mike Greenacre set his triple up for another good end that Keith Cooke capitalised on to score three shots and lead 8-3. A competitive end followed with Karl Newby's triple keeping their hopes alive by scoring two shots. Going into the last end Cooke led 8-5 and kept the end tight, dropping just one shot, to win the Potters Cup Final by 8-6.
Potters Shield
Both Potters Shield semi-finals produced big wins. Alan High, Mark Chittock & David Chittock made a fantastic start against Joy Townsend, Jill Cleveland & Margaret Barley scoring three shots on the first end and a full house on the second end. Margaret Barley's triple took singles on the next two ends but then conceded three shots on the fifth to trail 12-2 in a game that Chittock's triple went on to win 15-3. In the other semi-final Margaret Hare, Mike Thrush & Alan Hare scored five shots on the opening end against Leslie Turner, Gavin Gray & Jack Gray but by the fifth end their lead was reduced to 7-4. After then though it was Alan Hare's triple all the way as they eventually won 13-4. In the Potter's Shield Final Alan Hare's triple enjoyed another great start scoring four shots on the first end and led all the way until the penultimate end where they led 6-5. But Alan High, Mark Chittock & David Chittock produced the goods on the final end scoring four shots to win 9-6 and clinch the Potter's Shield.
Potters Cash Pairs
On Sunday the Potter's Cash Pairs was won by Will & Joy Townsend, the only pair to record maximum points. Seven other pairs finished on ten points with shot difference deciding who the other two cash winners would be. Kerry Greenacre & Keith Cooke finished second with +37 shots and George Hume & Chris Mann were third with +35 shots. The other pairs who finished on ten points were Debbie & Jon Sparham on +32, Janet Hinson & Josie Charter with +26, Mark & David Chittock with +25, Carol & Bob Taylor with +15 and Audrey & Brian Fowler on +10.
The Potters Cup & Shield Presentations were conducted by Potters entertainer Mark Brewer with the event Co-organiser Teresa Goldsmith. The Potters Cash Pairs Presentations were made by Co-organiser Selwyn Goldsmith. The Potters Cup Weekend once again lived up to its reputation as a stunning weekend of bowls, dining and entertainment at Potter's Leisure Centre in Hopton-on-Sea justifying once again its 5 Star rating.
Photo Call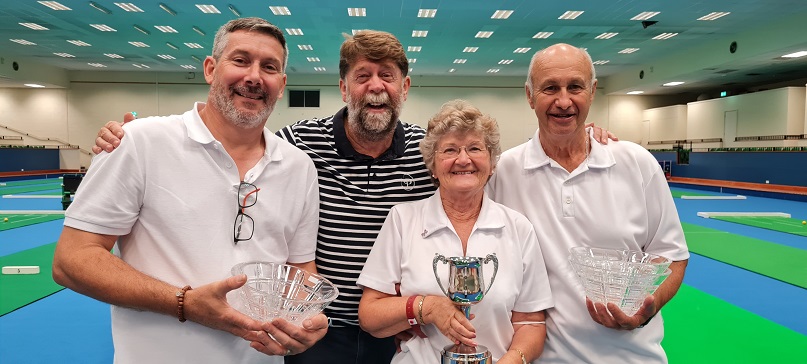 Potters Cup Winners Keith Cooke, Kerry & Mike Greenacre with popular Potters entertainer Mark Brewer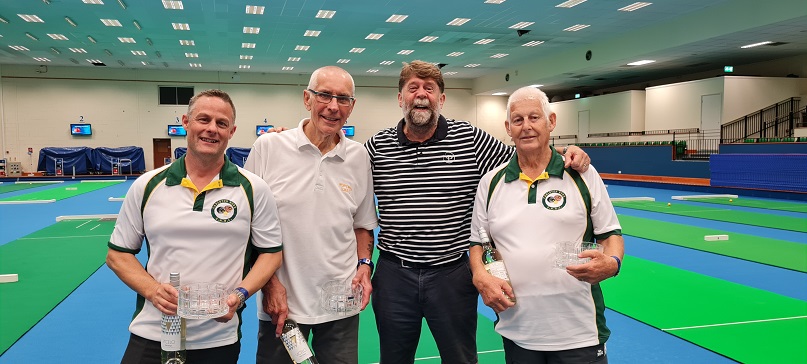 Potters Cup runners-up Karl Newby, David Brundell & Terry Newby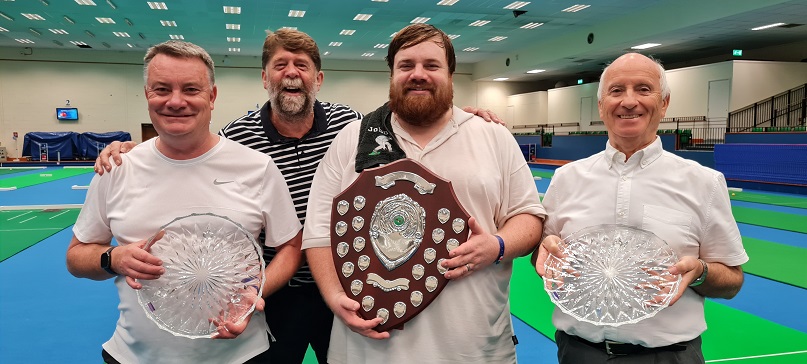 Potters Shield winners David Chittock, Mark Chittock & Alan High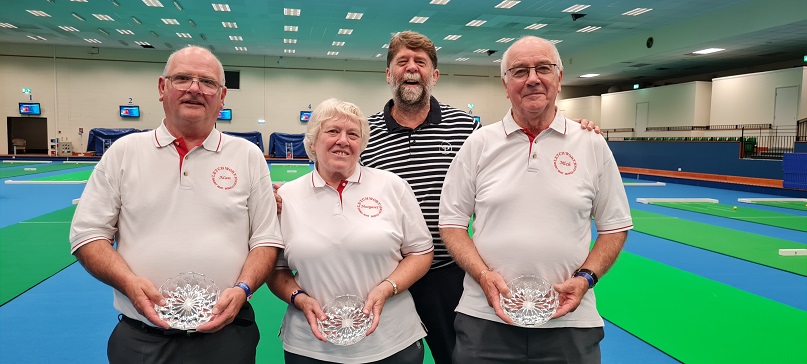 Potters Shield runners-up Alan Hare, Margaret Hare & Mike Thrush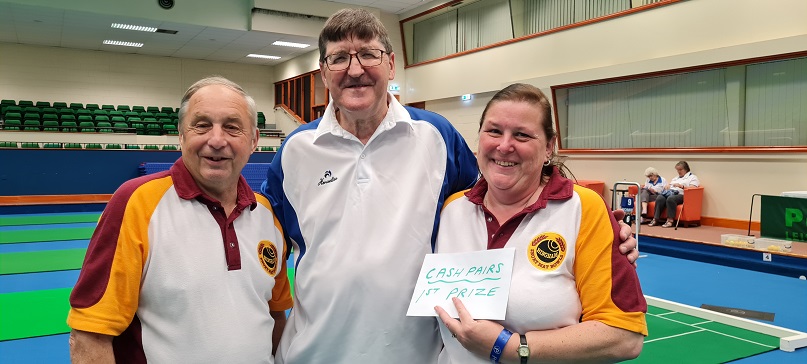 Potters Cash Pairs winners Will & Joy Townsend with Potters Weekend Co-organiser Selwyn Goldsmith
Potters Cash Pairs runner-ups Keith Cooke & Kerry Greenacre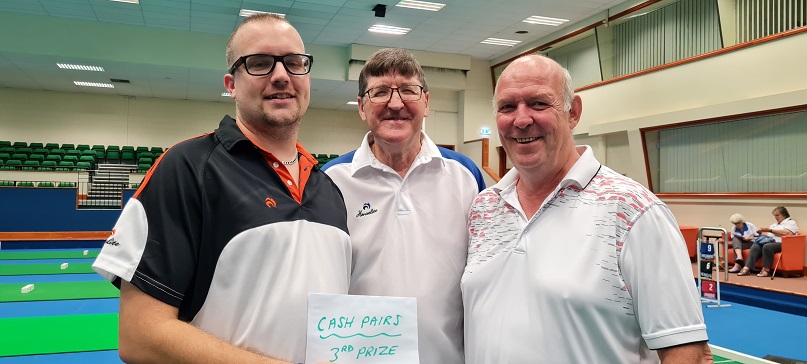 Potters Cash Pairs Third place Chris Mann & George Hume