Sunday 6th November 2016
16 Triples from 9 Breckland league teams contested the annual Keith Banks trophy. Playing in four groups of four in a round robin with the winners and runners up going into the ¼ final.
Group 1 winners Wendy, Graham Tweed and Keith Thomas, Runners up Wymondham's Hayley Stratton, Mary Fisher and John Jefferey.
Group 2 winners Graham Mobbs, Terry and Karl Newby, Runners up Will Townsend, John and Margaret Hunter
Group 3 winners Diana Adcock, Sylvia Parsons and Bob Oatway, runners up Colin Smith Bill Francis and Jim Delaney
Group 4 winners Mo and Mike Tarrant and Arthur Snelling, runners up Elaine Oatway, Jack Marshall and Joe LiRocchi.
¼ final
Bob Oatway v Margaret Hunter 6-12
Mike Tarrant v John Jeffery 6-8
Keith Thomas v Joe LiRocchi 9-8
Terry Newby v Jim Delaney 12-9
Semi-final
Keith Thomas v Terry Newby 11-8
Margaret Hunter v John Jefferey 17-5
Final
Margaret Hunter v Terry Newby 7-13
Chairman Malcom Southgate introduced Hazel Banks to present the trophy to the winners in semi gloom as just as we were clearing up a power cut occurred.
Thanks to Bob Oatway and Bill Adcock for the administration, Cynthia Powell for teas and coffee, Carolina LiRocchi for the raffle and to all who donated prizes, and to all who assisted with the equipment

.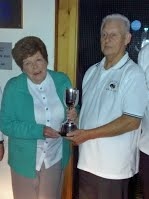 Hazel Banks presenting the trophy to Terry Newby