Both Norfolk teams made their way to the ICC Consolation Finals held at Solihull IBC. Norfolk Premier found themselves pitted against Surrey and the A team came up against Gloucestershire. Early starts were made by all but all turned up bright and breezy ready to do Norfolk proud.
Norfolk Premier Team
The first session was singles. There were some close encounters and three of the four games could have gone either way. Neil Davidson won comfortably 22-7 and Robbie Lamb produced an excellent last bowl to secure a 16-12 win. The score after the first session was Norfolk 8 Surrey 4.
Triples was the second session and saw Norfolk move up a gear and were in control of all four games. Christopher Willies's triple winning 15-6 and David Lamb's triple winning 15-9. The half time score was Norfolk 20 Surrey 4. Norfolk needed 5 points from the remaining two sessions to lift the ICC Consolation trophy.
The third session was fours. Norfolk started slowly but gradually gained the ascendency and won three out of the four games. Norfolk just losing out in the other game 9-7. Keith Cooke's four were the best winners 13-5. Scores after the third session Norfolk 30 Surrey 6. With one session left Norfolk were the winners.
Pairs was the last session of the day and saw Surrey come to the fore, winning three games out of the four. Simon Willies (outgoing Manager) and Jack Pye (incoming Manager) produced a fine display winning their game 27-2. The final score was Norfolk 34 Surrey 14. Norfolk lift the ICC Premier Consolation Trophy.
Norfolk A Team
The A Team again produced another superb team performance and have certainly grown in confidence and a belief they could win. It's been great watching the team progress in the knockout stages of this competition with the less experienced bowlers growing and developing alongside the well-seasoned bowlers. Their performances have got better and better.
The first session was singles and saw Norfolk struggle in all four games eventually losing them all. Will Townsend came closest just losing out 12-9. The score after the first session was Norfolk 0 Gloucestershire 12.
Backs against the wall would Norfolk come out fighting in the second session, triples. Yes, was the answer with Norfolk turning it around winning three out of the four games, Steve Hall's triple winning 17-3. One lot of bonus points were shared with each team winning one game by one shot. The score after the triples was Norfolk 9 Gloucestershire 15.
Still all to do but Norfolk's tails were up and ready for the third session, fours. The session went Norfolk's way with them winning all four games. Some close games that could have gone either way but Norfolk held their nerve to win them. Steve Hall's four winning 14-5. The score after the third session was Norfolk 21 Gloucestershire 15.
The last session saw Norfolk needing 4 points to lift the trophy. There was no stopping them and they came away winning all four games to give Norfolk the title. Mike Smail and Terry Newby winning 26-4. The final score Norfolk 33 Gloucestershire 15. Norfolk A team lift the ICC A team Consolation trophy.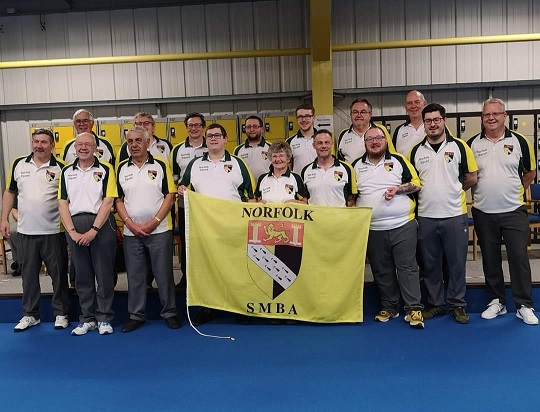 Norfolk Premier - I.C.C Consolation Final Winners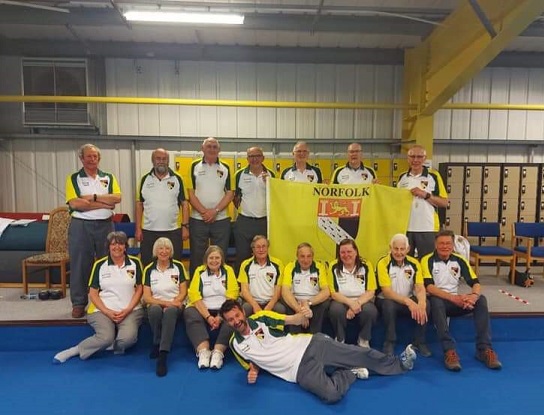 Norfolk "A" - I.C.C Consolation Final Winners
Norfolk County Manager's Summary
On a personal note, I would like to say a huge thankyou to all those players that have played, supported and encouraged everyone in the Norfolk County Squad during my 4 year tenure. This wasn't all possible with the hard work, support and efforts of my Assistant Manager Keith Cooke, Premier Captain John Turner, A team Captains Mike Smail and Steve Hall, A team Vice Captain John Jeffery. I shouldn't forget all the helpers with the refreshments, raffles and collecting fees. Again, without you I couldn't have achieved what we did. Thankyou one and all.
Congratulations to both teams for winning their finals. Some silverware to go in the cabinet at Hingham.
I have been greatly impressed with enthusiasm and improvement shown by the newcomers to the squad ably supported by us old timers! It was great to lift both the ICC Premier and A team Consolation trophies. Hopefully something to build on for the incoming team.
Thank you to the NCSMBA committee for letting me take on the role. It is never easy following success and it has been challenging with so many experienced bowlers deciding not to play. On the positive side it is good to see new players come through and begin to play County standard bowls. Hope you continue and remain part of the set-up.
I would like to wish Jack Pye and Christopher Willies all the success in their venture as the new Norfolk County Management Team. Onwards and upwards Nelson's Army.
Finally, a great big thankyou to my wife, Elaine for her support and hard work especially making sure I didn't forget things.
One happy Norfolk County Squad Manager signing off.
Simon Willies
Norfolk County Squad Manager.