In the Bure League Halvergate made it nine wins from ten games with an 8-2 away win at Thorpe Marriott. Donna Lamb, Jackie Smith & David Lamb led the way with a 23-6 win against Derek Sheldrake's triple. John Norfolk, Ray Lamb & Robbie Lamb beat Kath Frost's triple 16-9 and Kerry Greenacre, Jackie Bridge & Keith Cooke beat John Jarvis's triple 13-12. Marriott's only win of the night was earned by Sheila Redwood, Ted Griffin & Tony Turner who beat Mike Tate, Karl Newby & Jason Woods 13-12. Halvergate's main rivals, East Tuddenham, won 6-4 at Horsford Heroes where Melly Woods' triple won 18-7 and Simon Willies' triple won 15-10. Tuddenham took a maximum 10-0 points win at home to Horsford BC with John Turner's triple winning 26-3, Melly Woods winning 22-4, Robert Howlett winning 23-7 and Robin Amos winning 14-13. Halvergate top the table on 88 points after ten games with East Tuddenham second on 74 points also after ten games. Third placed Hevingham beat Windows 10-0 with Maurice Kemp's triple winning 22-6, Steve Hall winning 23-11, Selwyn Goldsmith winning 16-4 and Lesley Crowe winning 17-9. After suffering eleven defeats Horsford BC finally got a win on the board beating Woodbastwick 8-2. Cathy Fiddy, Vic Durrant & Tim Flack beat Lianne Mills 14-11, Piero Cognetti, Tim Blackman & Brian West beat Tony Wright 17-14 and Ruth Ruddock, Keith Ruddock & Janet Seaton beat Peter Jablonowski's triple 12-10. Woodbastwick also lost 7-3 at Thorpe Marriott where Sylvia Turner, Ted Griffin & Tony Oram won 21-8.
Breckland League leaders Wymondham moved closer to another league title with a 10-0 maximum win at Banham. Jon Sparham's triple, with recent signing David Chadwick at lead and John Jeffery at two, won 21-5 while Chris Mann's triple won 23-10, Owen Cranston's triple won 21-5 and captain Debbie Sparham and her triple won a tight game against Jim Delaney's triple. Wymondham's main rivals Connaught "A" and Carleton Rode faced each other at Attleborough and the tight 6-4 win for Connaught "A" will be good news for Wymondham. Connaught would have been hoping for maximum points from this game to take them closer to the leaders but the four dropped points leave Wymondham hot favourites to retain the title. Harling Griffins won 10-0 at home to Shropham in a clash between the leagues bottom two teams.
City of Norwich League leaders Horsford Gold made it thirteen wins from fourteen games and look comfortable at the top. They won 14-0 at home to Horsford Blue in a local derby and then won 12-2 away to Framingham Earl. Horsford Heroes continue their good form winning 10-4 at home to Deaf Sports. It proved to be a better night for Deaf Sports when they entertained Costessey who they beat 12-2. Framingham Earl won 10-4 away to Taverham while First Bus won 14-0 against Jarrolds. Three Horsford Gold bowlers are through to the finals of the City League Singles Championship, they are R Ayres, R Burrage & N Willard. Windows have two finalists, B Oatway and D Quadling. The other three finalists are K Halford of Windows, J Robertson of Deaf Sports and K Thomas of Costessey.
In the South Norfolk League Harling won 7-3 at home to Horsford Heroes with Roger Braham's triple winning 23-5 and George Hume's triple winning 13-9. Harling also won 8-2 at home to Hingham with Gwen Messent, Keith Messent and Ron Marsh winning 23-6. Connaught won 10-0 at home to bottom club Shropham with Mike Minshull's triple winning 23-5.
Halvergate won 3-0 at Hempnall in the Tens League with Mike Tate, Keith Baker & Robbie Lamb winning 20-10, John Norfolk, Jackie Smith & Ray Lamb winning 15-13 and the pair of Donna & David Lamb winning 19-11. Hempnall's only win was scored by Kerry Greenacre & Owen Cranston who won 15-10. Hempnall fared better at Hevingham where they won 2-0 after a close finish. Debbie & Jon Sparham's 18-7 win against Pat Williamson & Steve Hall paved the way for victory aided and abetted by a 16-11 win for Paul Baker's triple against Aleck Haynes' triple. Richard Moore & David Sharpe of Hevingham drew 15-15 against Kerry Greenacre and David Blundell while Hevingham's Pat Hall, Alan Bunn & Marjorie Hall beat Gavin Gray's triple 22-13.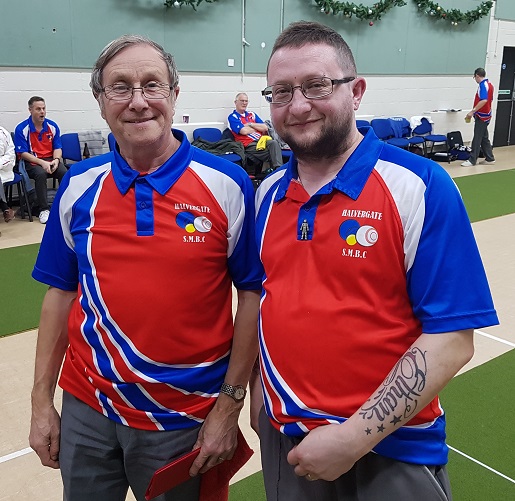 Wins for Halvergate's Ray Lamb and Robbie Lamb against Hempnall