The SMPT English Masters was held at Falcon Bowling and Social Club in Chelmsford this weekend with the entry of 192 bowlers including 2018 champion Jack Pye of Wymondham. Making up the Norfolk contingent were fellow Wymondham players John Jeffery and Debbie Pye as well as Wortwell's David Blundell, Hempnall's Neil Davidson and Simon Warnes of Horsford BC. Defending English Masters champion Stephen Williams of Wales was looking for a hat-trick of wins as was Northern Ireland's Joseph Beattie who has also lifted the title twice before. The line-up, as expected at SMPT events, was multi-national with bowlers from Norway, the Netherlands, U.S.A, Belgium, Poland, Denmark, Sweden, Isle Man, Northern Ireland, Ireland, Scotland, Wales & England taking part. Playing in groups of six players, the top two in each qualify for the main English Masters knock-outs, players finishing third and fourth compete in the Plate knock-outs and players finishing in the bottom two places play in the Shield knock-outs.
Saturday – Group matches
The hopes of the three Wymondham bowlers all took an early hit as Jack Pye lost his opening game by 13-10 against Rob Wade of Essex, John Jeffery went down by 15-5 against Sweden's Jorgen Karlsson and Debbie Pye lost by 21-4 against Northern Ireland's Gary McNabb. A better start was made by Norfolk's other bowlers as David Brundell beat Belgium's Johan Bleus by 13-9, Neil Davidson beat fellow Englishman Stephen Wilson 14-5 and Simon Warnes beat Roger Berglund of Norway by 12-6. Essex contender Tony Ealham lost his first game by 12-4 against North Yorkshire's England international Bronagh Toleman who was representing Ireland in this event. Meanwhile defending champion Stephen Williams showed his intent with a blistering 20-5 win against home favourite Mark Chittock and continued in similar fashion in his second game beating Norway's Lars-Rune Lauritzen 19-2. Joseph Beattie made a great start beating Karl Nordlund of Sweden 18-5 in Group 22. Jack Pye put his opening game defeat behind him as he beat Andrew Cockcroft of Northern Ireland 14-8 but Debbie Pye went down again losing 11-4 to Bob Taylor of Essex. Simon Warnes notched up his second win beating Susan Banfield 18-6. Early afternoon games saw John Jeffery lose his second game, this time by 17-4 against England's Ryan Knight. David Blundell faced John Jillings of Wales but failed to repeat his earlier success as he went down by 15-9. Neil Davidson though made it two wins from two as he beat Johan Bleus of Belgium 15-9 and looked well on his way to finishing in one of the top two positions in his group to qualify for the main knockouts. The 2pm session saw Debbie Pye lose her third game in a row by 14-4 against Belgium's Luc Schorpion but there was success for Jack Pye in the 2.50pm session as he beat Martin Dubb by 10-7 to make it four points earned from a possible six. Four Norfolk players were in action in the 3.40pm session. Neil Davidson made it three straight wins as the Norfolk's Singles Specialist beat John Jillings 11-8 and Simon Warnes drew 10-10 against Belgium's Jonathan Payne, an experienced and successful SMPT bowler. In Group 28 John Jeffery lost for the third time going down by 15-4 against Thomas Coles. David Blundell also lost against Essex bowler John Pye who beat Blundell 17-4. The following session saw Debbie Pye lose her fourth game of the day going down by 13-7 to David Hacker. Jack Pye's last game on Saturday saw him facing an opponent he knows well, England's Dom Reed. An excellent 14-7 win for the Wymondham bowler saw him top the Group 14 table overnight level on points with Andrew Cockcroft. With Pye's last group game on Sunday morning against Mio Kontec, who had lost all four of his group games so far, the knock-out stages in the English Masters beckon. John Jeffery faced the legendary Steve McAlister in his last Saturday Group 28 game and despite losing for the fourth time he restricted McAlister to a 10-8 win. It had not been one of McAlister's better days as he had lost to both Mitchell Young and Ryan Knight but had beaten Thomas Coles 16-7. Top of Group 28 at the close of play on Saturday were Mitchell Young and Sweden's Jorgen Karlsson with both players already certain of reaching the knock-out stages of the main competition. Without a doubt John Jeffery had been unlucky in the draw to be placed in such a strong group. The 6.10pm session also saw both Neil Davidson and David Blundell in action who had both been drawn in Group 30 with the Norfolk bowlers due to play each other on Sunday morning at 10.40am. Neil Davidson was up against John Pye of Essex and with both players having won all their three games up to now the result would put the winner top of the group overnight. Davidson came out on top to record his fourth win beating John Pye 12-9 leaving Davidson top on 12 points and John Pye second on 9 points. David Brundell recorded his second win of the day beating Stephen Wilson 10-6 and the result left him fourth in the group overnight. Simon Warnes beat Edward Gittoes of Wales 15-5 to leave Warnes well positioned in second place in Group 24, one point behind Edward Sawbridge who he will play at 9.40am on Sunday morning. Close of play on Saturday left another interesting game in the offing for Sunday mornings session. Defending champion Stephen Williams found himself in second place in Group 4 after winning three games but losing one against Peter Hore by 10-6. Nigel Nicholls finished Saturday top of the group with four wins and with Nicholls and Williams due to meet at 9am on Sunday another defeat for Williams could see him failing to make the knock-out rounds. The other bowler looking for his third English Masters title, Joseph Beattie of Northern Ireland, had already made sure of his place in the knock-outs. He was taking no prisoners on Saturday as his opening win against Karl Nordlund was followed by a 22-4 demolition of Welsh bowler Lee Lewis, an even bigger 29-1 win against Norway's Lisa Kristin Frantzen and a 12-4 win against Joseph Lewis of Wales. This left him top of Group 22 on 12 points, the same as second placed Bjarne Andersson of Sweden who he would play at 10.40am on Sunday. Both players though were already assured of finishing in the top two qualifying places regardless of their result as they were both six points clear of third placed Karl Nordlund of Sweden. Alex Kley of Dorset headed Group 2 after wins against Sam Moore, Nigel Froud, Pauline Beattie followed by a 7-7 draw with Lawrence Moffat Another bowler looking in fine form on Saturday was Northern Ireland's Gary McNabb whose heavy win against Debbie Pye in his first game was quickly followed by three more convincing victories in Group 5. Four wins for Lee Toleman of North Yorkshire left him top of Group 9 and Ireland's P.J Gallagher also got four wins to lead Group 23, both players are more than capable of going all the way.
Sunday – Group matches
Debbie Pye was the first Norfolk player in action on Sunday morning playing in the 9am session where she lost 16-6 to Lorraine Shorney. Finishing bottom of Group 5 Debbie Pye will play in the Shield knock-out round. Also in action at 9am was defending champion Stephen Williams who lost by 8-7 to Nigel Nicholls so finished in third place in Group 4 and out of the main competition and into the Plate event instead. Jack Pye was the next Norfolk bowler in action and an impressive 21-4 win against Mio Kontic made sure that Jack finished top of Group 14. The 10.40am session saw the other four Norfolk bowlers on the mats. The all Norfolk clash in Group 30 saw Neil Davidson make it five wins in a row beating David Blundell by just one shot. This guaranteed Neil Davidson the top spot in the group with John Pye of Essex in second. With two wins and three defeats David Blundell finished in fourth place to qualify for the Plate knock-outs. Simon Warnes faced tough opposition in his last group game in the shape of Ed Sawbridge and lost by 10-5. The result left Warnes just losing out on qualifying for the main knock-outs as he finished third in Group 24 level on points with second placed Jonathan Payne who he had drawn with on Saturday. Just one more shot in that game would have seen Warnes qualify but instead he would have to be content with a place in the Plate knock-outs. John Jeffery was up against England's Mitchell Young in his final Group 28 game hoping to get a win on the board after four straight defeats. Unfortunately it was not to be as Mitchell Young hit top form to record a 17-2 win against the Wymondham and Norfolk bowler. This left John Jeffery to join Debbie Pye in the Shield knock-outs while Mitchell Young won the group ahead of Sweden's Jorgen Karlsson in second place. This left Ryan Knight in third place and Stephen McAlister in fourth place into the Plate knock-outs, both players will have hoped to finish in a top two position but this was a tough group to be drawn in. In Group 22 the clash between the two players who had won all their previous four games ended in a big 16-4 win for twice English Masters champion Joseph Beattie against Bjarne Andersson but as previously stated both were already certain of qualifying for the main knock-outs anyway.
Sunday – Knock-out stages
Shield – Knock-outs Last 64
John Jeffery v Tony Wood (England)
Debbie Pye v Melvin Simpson (England)
The first round of the Shield knock-outs was played at 12pm and both Norfolk players made their exit. John Jeffery lost a close game against Tony Wood by 9-8 while Debbie Pye was beaten 11-5 by Melvin Simpson.
Plate – Knock-outs Last 64
Simon Warnes v Dafydd Howell (Wales)
David Blundell v Elise Daniell (England)
The first round of the Plate knockouts was then played at 1pm and once again both Norfolk bowlers were eliminated. Both games were close but Simon Warnes lost by 8-7 to Dafydd Howell while David Blundell lost 12-11 to Elise Daniell.
English Masters – Knock-outs Last 64
Jack Pye v Sam Harvey (Wales)
Neil Davidson v Gary Brian (Northern Ireland)
As any bowler in Norfolk is aware both Jack Pye and Neil Davidson are highly dangerous opponents in the singles discipline. With a place in the last 32 at stake both bowlers performed well with Jack Pye beating the talented Sam Harvey of Wales 10-5 while Neil Davidson progressed with a tight 9-8 win against Northern Ireland's Gary Brian. Joseph Beattie's hopes of winning this title for a third time remained high as he romped to a 17-6 win against Tim Harwood but there was a host of top names still in the hunt. In the greatly anticipated clash between P.J Gallagher and Jonathan Payne the Irishman emerged with a 14-9 win. Alex Kley beat James John Davies of Wales by 19-8, Scotland's Lawrence Moffat beat Steve Buckett 19-2 and Moffat's fellow North Yorks bowler Lee Toleman beat Tony Wall 11-5. Yet another North Yorks bowler made it through the round as Bronagh Toleman defeated Nigel Charles of Northern Ireland 17-8. Gary McNabb of Northern Ireland won by 13-7 against Gethin Edwards of Wales and Sweden's Joel Hager beat Frans Roberts of the Netherlands by 15-3. Peter Hore won an all English clash by 15-8 against Daniel Winmill while an all Norwegian clash ended with Ferdinand Frantzen beating Tone Boe 7-6. English contender Dom Reed seemed to have shrugged off his only defeat so far against Jack Pye as he beat Rory Gittoes of Wales 10-8. A surprise result saw Northern Ireland ace Mark Beattie lose 12-7 against Saul Featherstone of England while former England international Chris Hopkins of Northants lost 13-9 to Sibe Laureys of Belgium. The all England game between Nigel Nicholls and Leigh Hall was always going to be a close fought affair but Hall just had the edge winning 11-9. In the other games Ollie Hipkiss beat Faye Ray 15-8, Christopher Hillier beat Alex Tymon 11-6 and Alastair McCrea beat James Trott 9-8. Robin Armstrong beat Bjarne Andersson 11-4 and Greg Wade beat Mark McHugh 10-8. Peter Roberts beat Sweden's Jorgen Karlsson 12-6 and Essex bowler John Pye knocked out Ian Ford 15-9. Mitchell Young will have expected to progress further but lost 13-8 to Elliott James. Edward Sawbridge was another expected to go further but he lost 14-10 to Northern Ireland's Don Mcnamara. Another Northern Ireland bowler to progress was Nathan Haire who beat Daniel Griffiths 11-8. Michael Dooray beat Martin Grange 11-6 while Ben Pay went through with a 9-4 win against Stephen Jeffrey. Glenn Harvey won an all Northern Ireland encounter against Paul Cairnduff by 19-6 and Tony Bell beat Chris Coates 12-5. Kent's Tim Rycraft finally saw his run end as he was beaten 13-5 by Sean Hughes of Wales. Jason McLean enjoyed a comfortable 16-6 win against David Hacker.
English Masters – Knock-outs Last 32
Jack Pye v Ben Pay (England)
Neil Davidson v Sam Featherstone (England
The last 32 knock-out round proved to be the end of the line for both Norfolk bowlers Jack Pye and Neil Davidson. Jack Pye lost against an in-form Ben Pay by 12-7 while Neil Davidson lost by just 9-7 to Saul Featherstone. Joseph Beattie marched into the last 16 stage with a 14-5 win against fellow Northern Ireland bowler Don Mcnamara, Alex Kley won an all England clash by 12-7 against Leigh Hall. Jason McLean beat Sean Hughes of Wales 14-3 and another all Northern Ireland match saw Glenn Harvey beat Tony Bell 11-6. Michael Doorey of England beat Nathan Haire 12-5 while Elliott James beat Sweden's Joel Hagar 12-6. Bronagh Toleman ended John Pye's hopes of a win in his home county beating him 13-6. Greg Wade beat Peter Roberts 11-8 and Irish ace P.J Gallagher won by 13-6 against Robin Armstrong. Belgium's Sibe Laureys won 8=5 against Alastair McCrea and Dom Reed marched on with an 11-8 win against Christopher McCrea. Lee Toleman continued to look a dangerous opponent beating Ollie Hipkiss 12-6 and Gary McNabb won 10-5 against Ferdinand Frantzen. Lawrence Moffat beat Peter Hore 12-9 to complete the Last 16 line-up.
English Masters – Knock-outs Last 16
Dom Reed kept local hopes alive as he beat Lee Toleman 9-8 but North Yorks bowlers were still in the hunt as Bronagh Toleman beat Greg Wade 11-7 and Lawrence Moffat beat Gary McNabb 12-9. One of Ireland's top bowlers P.J Gallagher made his exit losing 9-7 against Sibe Laureys but Northern Ireland's Joseph Beattie was still going strong beating Michael Doorey 12-2. Alex Kley continued his unbeaten run with a 13-8 win against Jason McLean. Elliott James beat Saul Featherstone 13-10 and Ben Pay beat Glenn Harvey 11-8.
English Masters – Quarter-Finals
With just eight players left this is when it gets serious and Northern Ireland's Joseph Beattie knew he had a great chance of becoming the first player to win the English Masters three times. He made no mistakes against Elliott James as he recorded a 14-5 win. Alex Kley was also in great form as he also won 14-5 against Ben Pay. Lawrence Moffat knocked out local hope Dom Reed by 13-4 and the semi-final line-up was completed as Sibe Laureys beat Bronagh Toleman 11-8.
English Masters – Semi-Finals and Final
Joseph Beattie's dreams of a third title disappeared as young Dorset star Alex Kley produced another class performance beating Beattie 14-7. In the other semi-final a close match saw Lawrence Moffat beat Sibe Laureys 10-9. In the final there was no stopping Alex Kley as he beat Lawrence Moffat 15-3 to lift his second SMPT title and few would argue it was not well deserved. The Plate knock-out final was won by Stephen McAlister who beat Andrew Jones 13-5 while Sam Moore won the Shield Final beating Martin Watts 15-5 to complete another superbly run SMPT weekend.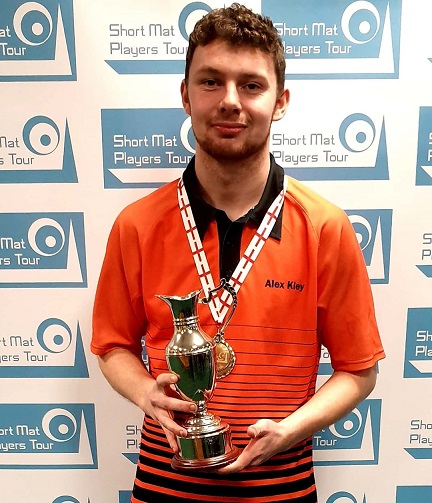 Alex Kley - English Masters Champion 2020 (photo SMPT)