Norwich Cup – Halvergate into semi-finals
Halvergate are safely into the Norwich Cup semi-finals after a 9-3 win at Horsford BC. They started well winning both opening triples games with Keith Baker, Ray Lamb & Robbie Lamb beating Michael Strivens' triple 7-5 while Jackie Smith, David Knights & Ryan Fox won by 11-4 against David Claxton's triple. Horsford BC hit back in the pairs though with Barbara & Ray Ayres beating John Norfolk & Keith Cooke 8-5 while Barbara Russell & Terry Raisbury drew 5-5 with Donna & David Lamb. But the triples clinched victory for Halvergate in the third session as Ryan Fox's triple won 15-3 and Robbie Lamb's triple won 8-5. Horsford conceded with the score at 9-3 to Halvergate so the final session of pairs was left un-played.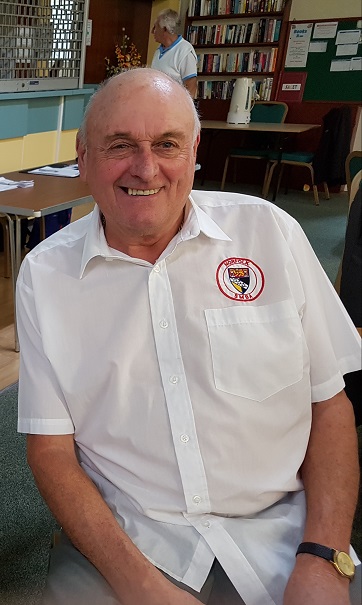 David Knights of Halvergate won 11-4 and 15-3
The Tens League – Teresa turns up the heat
In the Tens League a good first half enabled Hevingham to leave Connaught with a 2-0 win. The first half pairs game proved to be Connaught's undoing. Teresa & Selwyn Goldsmith beat Mike Smail & Tony Ottewell 20-6 with Teresa Goldsmith in scorching form at lead as she frustrated the Connaught pair end after end with a faultless display. Betty Cox, Chris Brooks & David Sharpe also won for Hevingham beating Joe LiRocchi's triple 15-13 leaving the visitors protecting a sixteen shot lead going into the second half. Another pairs win followed for Hevingham as Pat Williamson and former Connaught bowler Steve Hall fought hard for a 13-8 win against Di Quadling & Mick Minshull. But Connaught captain Bob Oatway, playing with Elaine Oatway at lead and David Quadling at number two, retrieved twelve shots for the home side by beating Marjorie Hall's triple 19-7 to restrict Hevingham to a 2-0 points win.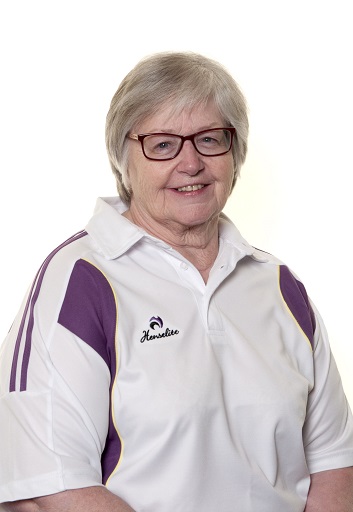 Teresa Goldsmith of Hevingham stars in 20-6 win
The South Norfolk League – Fourth win for Hempnall
Hempnall scored their fourth South Norfolk League win of the season by taking maximum points at Hingham. Bernie Cudden, John Jeffrey and Debs Sparham recorded the nights biggest win beating Graham Tweed's triple 24-7 while David Blundell, Colin Stevenson & Chris Mann beat Keith Thomas 18-11. Neil Davidson's triple added an 18-14 win while Paul Baker won 17-11.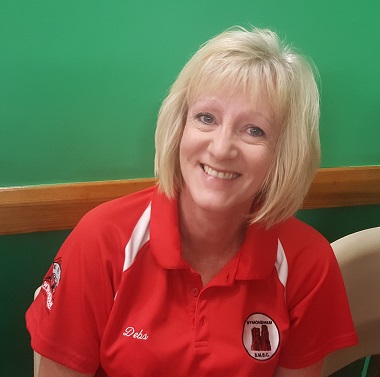 Debs Sparham of Hempnall in SNL records 24-7 win
The Bure League – The Big Two clash ends in stalemate
Bure League title contenders East Tuddenham entertained defending champions Halvergate. East Tuddenham were hoping to put their surprise home defeat by Hevingham behind them while Halvergate were looking to extend their winning sequence to seven games. Tuddenham's home defeat last season against Halvergate proved to be the crucial factor that cost them the title and that was something they did not want repeated. But it proved to be a nightmare start for the home side as Jean Woods, Robert Howlett & Melvin Woods suffered a damaging loss. Halvergate's Mike Tate, Karl Newby & Jason Woods would have expected a difficult game but instead recorded a massive 27-3 win in the son versus father and mother encounter. Billie Barker, Melvyn Barker & Chris Mann won the other first half game for East Tuddenham beating Jackie Bridge, Jackie Smith & David Lamb by 17-13 but the home side trailed by twenty shots at the break. The second half saw two close games. East Tuddenham's Elaine Willies, Simon Willies & John Turner beat Anne Baker, Keith Baker & Keith Cooke by 13-11 while Gillian Amos, Gerald Potter & Robin Amos were held to a 12-12 draw by Halvergate's Ray Lamb, Jamie Forster & Robbie Lamb. With Halvergate finishing 63-45 up on shots the two match points were safely in their hands but East Tuddenham's two wins and a draw earned them a 5-5 draw on points after a punishing encounter. The draw ended Halvergate's run of wins but they remain unbeaten and well clear at the top of the table while the team that remain their biggest rivals will be searching to find some consistency after again failing to win on their own mats.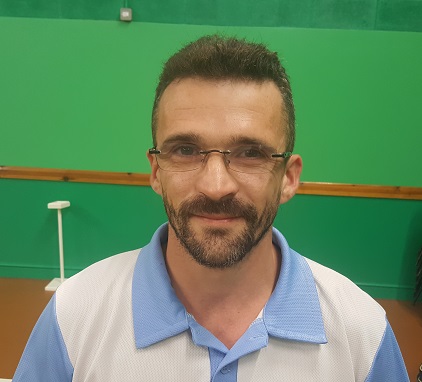 Jason Woods of Halvergate a 23-7 win in Bure League
The City of Norwich League – Horsford Heroes still top after beating Jarrolds
Horsford Heroes won their ninth game of the season winning 10-4 at home to Jarrolds and top the table. Horsford Gold brushed visitors Windows aside with a maximum 14-0 win and are nine points behind the leaders but have two games in hand. Jarrolds fared better at home to Framingham Earl as they won by 10-4. Its now nine straight defeats for Horsford Blue who are adrift at the foot of the table after losing 14-0 at home to third placed Thorpe Marriott. Other games saw mid table First Bus beat British Rail 10-4 while Costessey won 12-2 at home to Framingham Earl.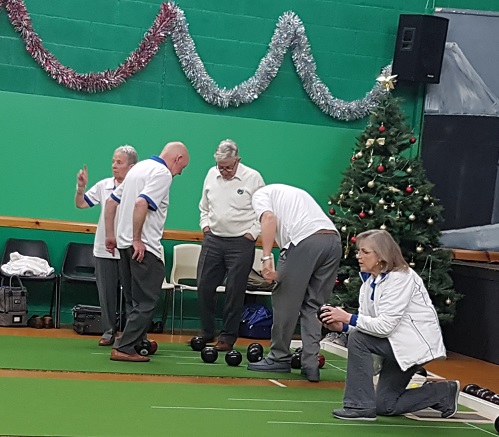 Horsford Heroes v Jarrolds at St Faiths