The first competition of the season was held at Hemsby Sports and Social Club on Sunday 17th November. Representatives from all 8 teams and supporters looked forward to a competitive and exciting day's bowling.
The Round Robin, consisting of four players on four mats, showed the quality of the competitors. Two players from each group went through to the quarter finals. Mat 1 could not have been closer between the winner and runner-up, both Alan Marker of Hemsby Beachcombers and Woodbastwick Eagles' Tony Wright ending up with 5 points, Tony just beating Alan by 1 on shot difference. Mat 2's winner was Tricia Wooden from Hemsby Harvesters, her 6 points unmatched by the other players. Runner-up was Woodbastwick Owls' Ted Sims again on shot difference. David Wooden representing Harvesters was the clear winner on Mat 3, Bradwell
Dynamos' John Cooper emerging as runner-up with a shot difference of -2 against Damian Lamb's -3. Mat 4 saw Barry Layton of the Beachcombers easily through with 6 points. Runner-up was Dynamos' Christine Cooper.
The first quarter final was a very close match, David Wooden beating Christine Cooper by just one shot. Barry Layton continued his good form winning 7-3 over John Cooper. A Woodbastwick Derby between Ted Sims and Tony Wright finished 8-5 to Ted, and Tricia Wooden showed superb form beating her Hemsby club mate Alan Marker 12-4.
Tricia continued her winning ways in the semi-finals, with a win of 9-7 over Barry, and Ted Sims demonstrated his drawing ability to win the other semi-final against David Wooden.
So, on to the final! Hemsby's strong home contingent was loyally and vocally supporting Tricia, while Woodbastwick's fans were cheering their representative Ted. The repositioning of the mats from straight to slanting always has some influence on the last stages of the contest, and though Tricia bowled very well and had many chances on some of the ends, it was Ted's accurate drawing that gave him the victory 11-1.
Chairman Mike Harvey presented the trophies, and thanked all who participated, helped or supported. He thanked John Sargent for drawing up all the paperwork. His smooth running of the contest was acknowledged.
Thanks to Jenny Walker for this report of the Coastal Singles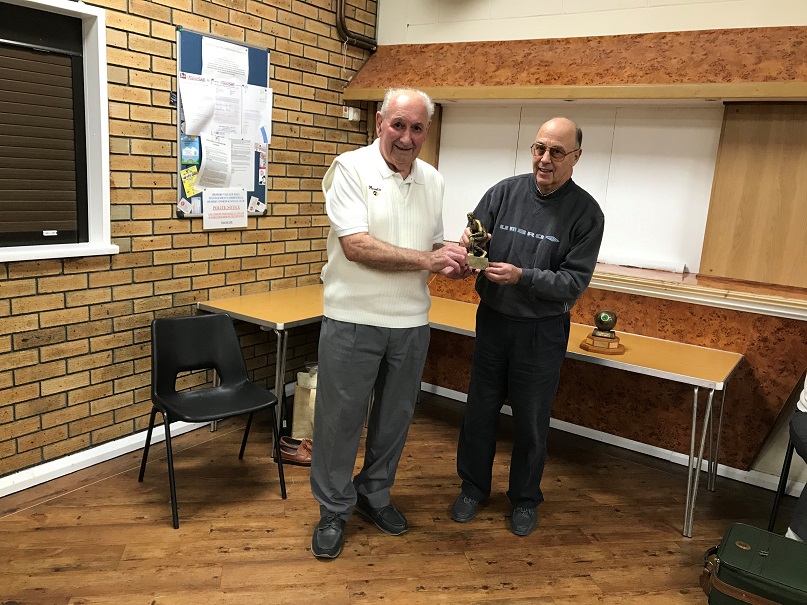 Champion Ted Sims with Coastal League Chairman Mike Harvey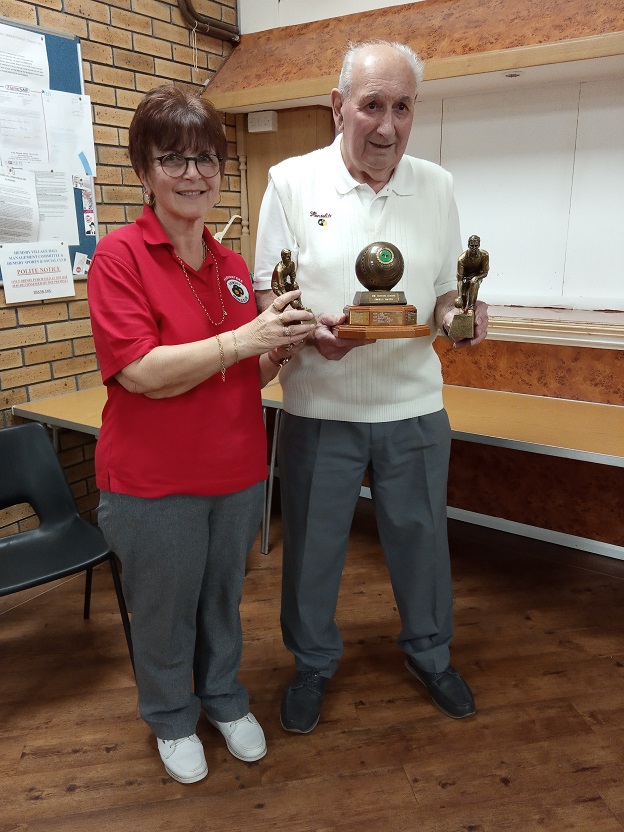 Runner-up Tricia Wooden of Hemsby Harvesters and the new Champion Ted Sims of W'bastwick Owls