The Potter's Cup Weekend delivered an exciting, and emotional, weekend in a busy International Arena as the annual event again provided a great time for all. The five star Norfolk coastal venue is the perfect setting for this long weekend of bowls, dining and entertainment that climaxed in a stunning performance by 1970's superstar Leo Sayer on the Atlas Theatre stage. Leo rolled back the years as he performed hit after hit from a golden age of pop music. This followed the traditional 5 course meal with wine on Sunday evening following the Potter's Cash Pairs competition on the second day of bowls. Bowlers arrived throughout the morning on Friday ready to collect their keys from reception at 2pm and some then made their way to the International Arena to get the feel of the mats prior to witnessing the draw for triple numbers at 6pm. After dinner some returned to the mats for practice while others headed into the bars and then into the Theatre for a superb show by the Potter's Theatre entertainers. Some headed into the bingo immediately after dinner and several lucky short mat bowlers were among the winners.
POTTER'S CUP & SHIELD
After a hearty breakfast in the Garden Restaurant on Saturday morning bowlers headed to the International Arena for a 10am start for the Potters Cup & Shield. With five games apiece during the day triples were intent on securing themselves a top eight place to qualify for the Potter's Cup & Potter's Shield semi-finals. Defending Potter's Cup champions Ann Rawlings, Margaret Barley & Laurie Rawlings of Carlton Colville started well with two wins but a 17-0 defeat against Wymondham's John Jeffery, Debbie Sparham & Jon Sparham torpedoed their chances. Sparham's triple had started the day as favourites and confirmed how dangerous they can be when they opened with a fantastic 22-0 win against East Harling's Glen Hume, Colin Hayman & fellow Norfolk Squad bowler Jill Hayman. They were one of only two triples to win all their five games and with a +49 shot difference claimed their place in the Potter's Cup semi-finals. Carlton Colville's Doreen Cooke & Derek Barley playing with Wortwell's David Blundell were the other triple on maximum points with + 31 shots. Pat & Alan High of Essex were playing with Steve Easter, recently transferred to Wymondham from East Harling, and recovered from an opening game 6-5 defeat to earn a Potters Cup semi-final place with 8 points and +52 shots. Carol & Bob Taylor of Essex were playing with North Yorkshire's "King" Arthur Jackson and earned their place in the Potters Cup semi-finals with four straight wins before losing their last game. Their 8 points and a +33 shots difference proved enough to see them through. Triples finishing in the next four places earned a place in the Potter's Shield semi-finals. Last years winners of the Potter's Shield were Owen Cranston, Lewis Cranston and Rob Cranston of County Council but Rob was recently tragically killed in an explosion at his workplace in Norwich. Bravely Rob's widow Claire Cranston decided to play with her sons Owen & Lewis in the competition and all wore special tops in memory of Rob. They opened with a 6-5 win against Alan High's triple and finished with eight points and +13 shots which was enough to see them through to the Potter's Shield semi-finals. Kerry Greenacre, Diane Boswell & Mike Boswell lost their opening game against Paul Baker's triple but four straight wins followed to see them through with 8 points and +31shots. With no triple finishing on seven points no less than twelve triples all finished on six points and shot difference decided who the other two Potter's Shield semi-finalists would be. These proved to be Pam Pearce, Jean Godfrey & Geoff Ward of Cambs with +24 and Hayley Stratton of Wymondham playing with Elaine & Bob Oatway of First Bus with +19.
POTTER'S CUP SEMI-FINALS & FINAL
John Jeffery, Debbie Sparham & Jon Sparham continued their sparkling form against Carol Taylor, Bob Taylor & Arthur Jackson in the semi-finals. They opened with fours on the first two ends to lead 8-0. There was to be no way back for "King" Arthur this time as his triple were beaten 15-4. The other semi-final saw an even heavier defeat as Pat High, Steve Easter & Alan High beat Doreen Cooke, Derek Barley & David Blundell 15-0. This set up a final between two triples in excellent form. But there was a loose start to the first end until Debbie Sparham drew shot. Jon Sparham added a second with his first wood and they held on to take a 2-0 lead. Pat High won the battle of the leads on the second end to hold shot and Steve Easter drew behind the jack to hold two. But Debbie Sparham drew a toucher right onto the jack leaving just the skips to play. Alan High's first bowl took shot and Jon Sparham was unable to prevent them cutting the lead to 2-1. A lovely opening bowl by Pat High on the third end sat on the jack. After Steve Easter fluked a second shot to make it two Debbie Sparham proved she could do it too as she took shot after a very fortunate wick. This stayed in place for Wymondham to go 3-1 up. The fourth end proved to be decisive. John Jeffery opened with a perfect draw behind the jack and then added a second while Debbie Sparham quickly made it three shots held. An attempted attack shot by Steve Easter missed its target and despite connecting with the jack with his second attempt Easter failed to change the situation. But a fabulous attacking bowl by Alan High made it touch and go before Jon Sparham complicated things even more in a packed head. High's final wood did not succeed as he had hoped and Sparham's triple finished the end holding three shots and a 6-1 lead. A good wood by John Jeffery held shot on the fifth end until the jack was sprung but a superb forehand draw by Jon Sparham gave Alan High a puzzle to solve which he failed to do and Sparham's triple now led 7-1. On the sixth end John Jeffery produced another good bowl and Debbie Sparham made it two with a great backhand draw. Alan High cut it to just one with his first bowl but at 8-1 down his triple's chances of recovery were now slim. The penultimate end saw two good opening bowls by John Jeffery pile the pressure on High's triple. Steve Easter played two attacking bowls that just missed their target leaving Alan High in real trouble. After High missed with a fire shot Jon Sparham drew in again on an end that eventually earned them five shots and a decisive 13-1 victory as both triples decided not to play the final scheduled end. The result was not a surprise as all day long John Jeffery, Debbie Sparham & Jon Sparham of Wymondham had been in excellent form and no-one could deny they were the best triple on the day in the International Arena.
POTTER'S SHIELD SEMI-FINALS & FINAL
Claire Cranston, Lewis Cranston & Owen Cranston opened their Potter's Shield semi-final against Pam Pearce, Jean Godfrey & Geoff Ward with a two on the first end and try as they might Ward's triple were unable to get into the game as the County Council triple won end after end to complete a 14-0 victory and earn a place in the Potter's Shield Final. In the other semi-final Hayley Osbourne, Elaine Oatway & Bob Oatway earned singles on the first two ends against Kerry Greenacre, Diane Boswell & Mike Boswell. But the next five ends all went Boswell's way as they took an 8-2 lead into the final end. Oatway's triple then earned what was only a consolation single leaving Boswell with an 8-3 win and a place in the Potter's Shield Final. With a lot of emotion evident in the International Arena Claire Cranston, Lewis Cranston & Owen Cranston took to the mat against Kerry Greenacre, Diane Boswell & Mike Boswell in the Potter's Shield Final. Boswell's triple started well taking singles on the first two ends but a three on the third gave the Cranston's the lead. Mike Boswell's triple levelled the game on the third end before the Cranstons scored two more singles to lead 5-3 with two ends remaining. Mike Boswell pulled one shot back on the penultimate end but a three on the last end secured Claire Cranston, Lewis Cranston & Owen Cranston an 8-4 Potter's Shield Final win and a warm round of applause from spectators. Presentations were then made by Potters Resort personality Mark Brewer and Potters Cup Weekend Organiser Teresa Goldsmith. The Most Relaxed Triple award was won by East Harling's Dinah Markwell, Jennifer Galliford & George Cody.
POTTER'S CASH PAIRS
On Sunday the optional Potter's Cash Pairs was played with all pairs playing six games each and the result decided by points followed by shots. The winners were Chris & Celia Jeans of Somerset who were the only unbeaten pair on the day with five wins and a draw. In second place were Kerry Greenacre of Haddiscoe and Keith Cooke of Halvergate with ten points and +22 shots and in third place were Debbie & Jon Sparham of Wymondham with ten points and +21 shots. Just missing out were Diane & Mike Boswell who finished on ten points and +17 shots. The Cash Pairs Presentations were again made by Mark Brewer and Teresa Goldsmith.
POTTER'S WEEKEND PHOTO CALL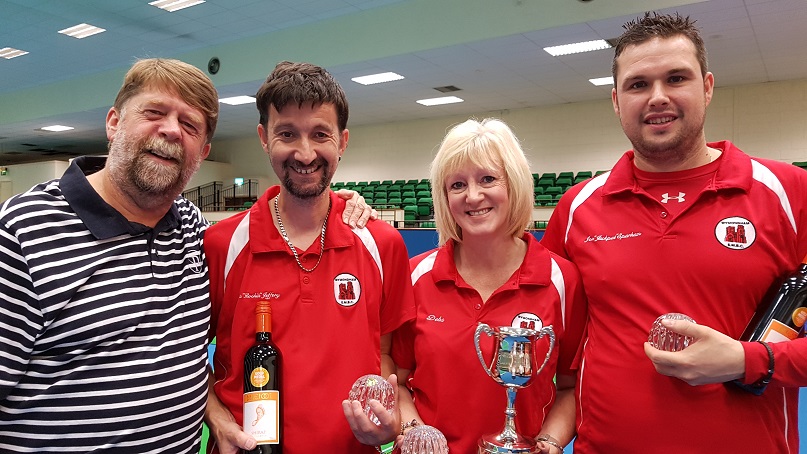 Potter's Cup Winners John Jeffery, Debbie Sparham & Jon Sparham with Mark Brewer of Potters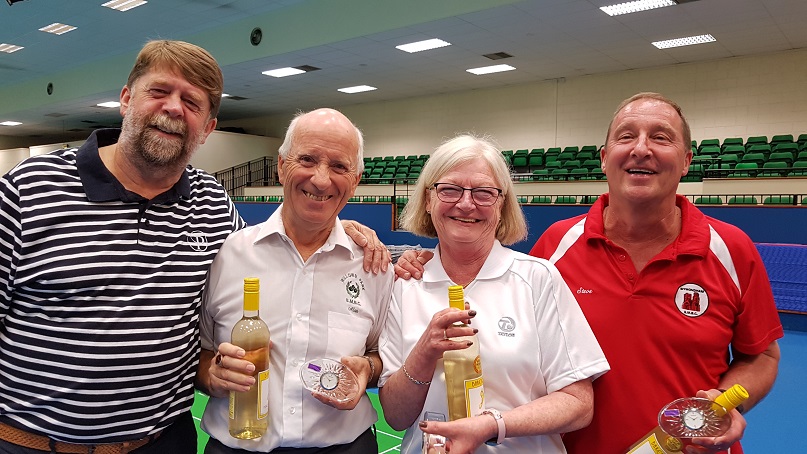 Potter's Cup Runners-up Alan High, Pat High & Steve Easter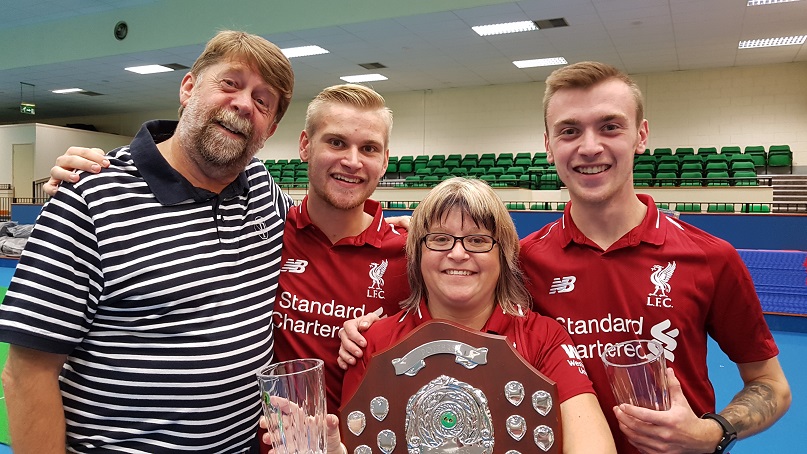 Potter's Shield Winners Owen Cranston, Claire Cranston & Lewis Cranston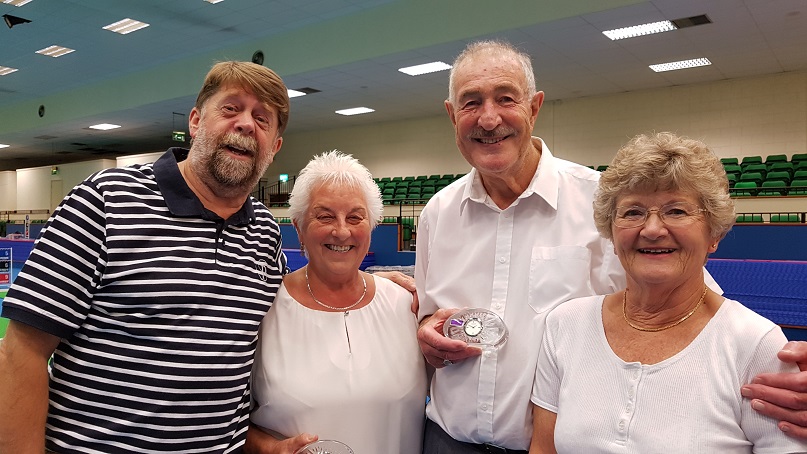 Potter's Shield Runners-up Diane Boswell, Mike Boswell & Kerry Greenacre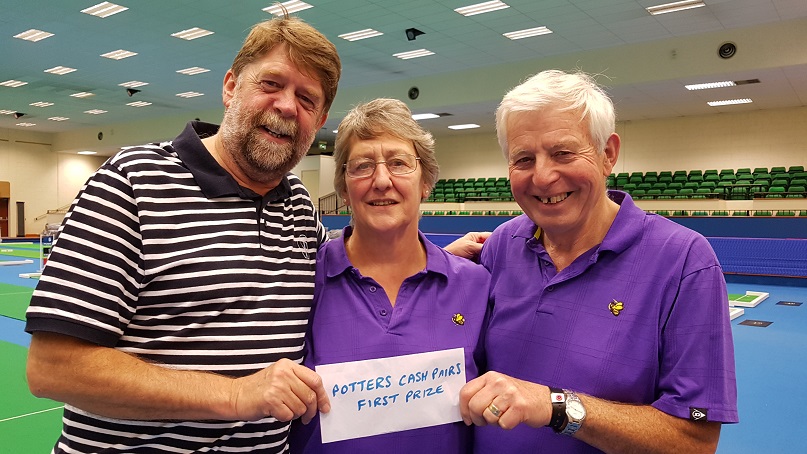 Potter's Cash Pairs Winners Celia & Chris Jeans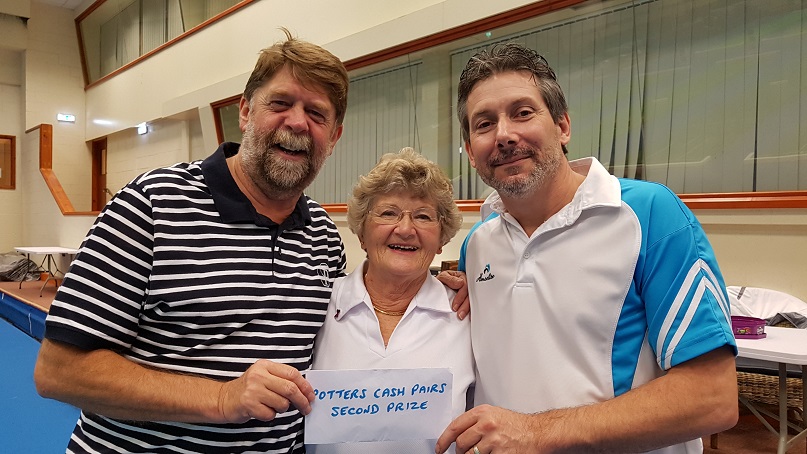 Potter's Cash Pairs Runner-up Kerry Greenacre & Keith Cooke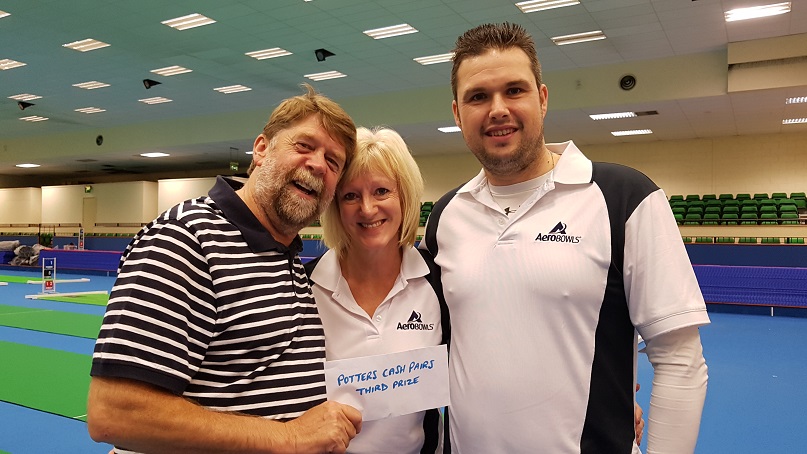 Potter's Cash Pairs 3rd Place Debbie & Jon Sparham