The Waveney League Cup Final between Broome and Wortwell, having been delayed due to Covid on a couple of occasions, took place on Wednesday 13th April 2022 at Kessingland SMBC. The evening got off to a good start for Wortwell with a 9-6 win in the pairs for Ron Saitch & Tony Oram over H Briggs/J Sayers. On the other mat Sheila Rusted's Wortwell triple drew 10-10 with Charlie Archer's Brooke triple. Wortwell's D Baker & C Roberts then drew 6-6 with Bob Foulcher & Sonia Williamson while David Blundell's Wortwell triple beat Michael Catlin's triple 11-7. The match score at half time stood at Wortwell 36, Broome 29.
There was a change of fortune for Broome after the break as they started to come back in the reverse fixtures. Michael Catlin's triple beat A Rusted's triple 8-7 and Bob Foulcher & John Sayers beat Ron Saitch & Tony Oram 8-4. Going into the final two games the scores stood at Wortwell 47 to Broome's 45. Wortwell's D Baker & C Roberts beat H Briggs & John Sayers 8-5 and having trailed all evening, Broome sealed the victory with a crushing 14-2 win for Charlie Archer's triple over David Blundell's triple. The final score for the match was Broome 64, Wortwell 55.
Congratulations to Broome and special thanks to Bob Swain and the Kessingland SMBC for their hospitality during the evening.
Cup Final Report courtesy of David Blundell (if you wish your tournament, or competition, to be featured on the Latest News page be like David and just email all the information to This email address is being protected from spambots. You need JavaScript enabled to view it. including a photo)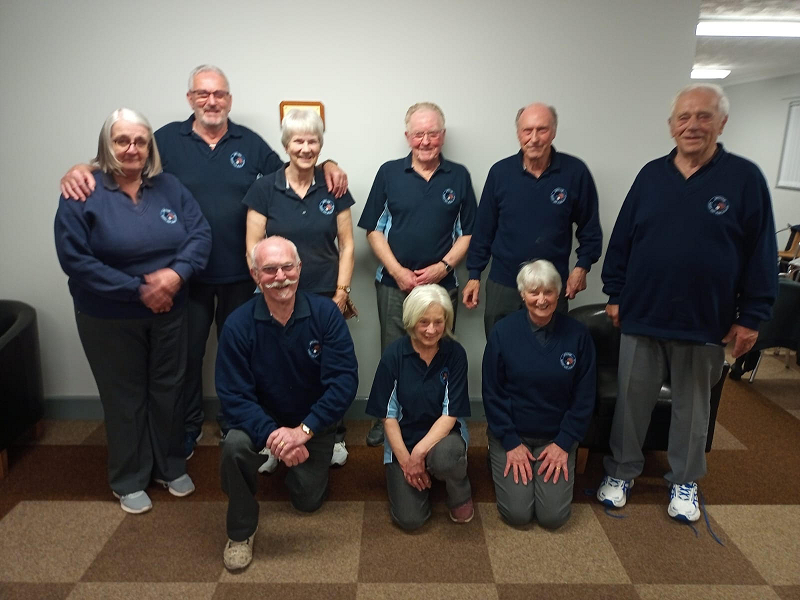 Broome - Winners of the Waveney League Cup