Breckland League action saw a predictable 10-0 home win for champions elect Wymondham where Connaught "B" were their latest victims. A crunching 40-3 win for Hayley Osbourne, Simon Warnes & Jack Pye set the stage for another huge win on shots with Mary Fisher, Owen Cranston & Chris Mann winning 27-4, David Chadwick, Steve Easter & Melvyn Barker winning 24-7 and Billie Barker, John Jeffrey & Jon Sparham winning 25-7. Harling Griffins won 6-4 at home to Thetford with a vital 25-7 win delivered by Christine Breeden, Jill Hayman & G Hume.
In the Bure League Horsford BC won 6-4 at home to Hevingham. Barbara Ayres, Brian West & Ray Ayres clinched the match points for the home side beating Rex Cox's triple 26-4 with John Buggs' triple adding a 15-8 win against Marjorie Hall's triple. Betty Cox, Chris Brooks & David Sharpe won for Hevingham beating Pauline Strivens' triple 20-4 and Alan Bunn, John Wade & Andy Drummie scored the visitors other win beating Terry Raisbury's triple 15-14.
City of Norwich League leaders Horsford Gold won 12-2 at Costessey, First Bus won 14-0 at Horsford Blue while British Rail won 12-2 at Jarrolds.
In the Winter Afternoon League top of the table Diss won 6-4 at bottom of the table Shropham Red with Terry Newby, Graham Atter & Tony Oram winning 22-5.
Saxlingham Nethergate finally won their first match of the season in the South Norfolk League following ten straight defeats. A first half 21-7 win for Geoff Payne (pictured) & Robert Howlett set them on their way with Margaret Beamish, Steve Potter & Peter Cook adding a 13-8 win.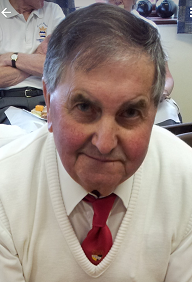 Geoff Payne of Saxlingham