East Tuddenham welcomed Horsford BC for the first leg of their Bure Cup preliminary round tie. With England international and former West Mids star Chris Willies making his debut for Tuddenham in a strong home team line-up it was always going to be a difficult task for the visitors to pick up points and so it proved to be as East Tuddenham won the match 19-5 on points. After four sessions the home side led 15-1 on points but late wins for John Bugg's triple against Robin Amos, and Ray Ayres' triple against Simon Willies, gave Horsford a glimmer of hope for the second leg. Chris Willies enjoyed a successful debut winning his three games by 6-3, 17-0 & 6-3.
Connaught "A" earned maximum points with a 10-0 away win at Harling Griffins in the Breckland League. David Aldous, Jim Squires & Paul McDonald led the way with a 21-11 win. Harling Griffins visit to defending champions Wymondham resulted in another 10-0 defeat with Wymondham scoring 117 shots against 24. It was yet another night when Wymondham racked up huge wins with David Chadwick, Andrew Jackson & Jon Sparham winning 33-2 and Mary Fisher, Jack Marshall & Chris Mann winning 36-7. Connaught "B" will be pleased with an 8-2 home win against Shropham with Ann Bayes, Steve Judd & Mark Watson top scoring with a 21-10 win. Harling Unicorns earned an excellent 8-2 away win at Hingham with June Kendall, Chris Jones & Ian Beckford winning 19-7. Terry Newby's Carleton Rode triple were in great form winning 30-9 at Thetford where the visitors collected all ten points. Forncett won 8-2 at Shropham with Rebecca Humphreys winning 27-5.
City of Norwich League action saw Thorpe Marriott installed as the early leaders with a 14-0 away win at Horsford Blue and a 10-4 home win against First Bus. Jarrolds lost 12-2 at Horsford Heroes while First Bus won 14-0 at home to Windows. In their City Shield match Jarrolds drew 8-8 at home to First Bus.
Bob Carter won 4-0 at Hempnall in the Tens League where J Woods & John Turner won their pairs game by 21-5 against Paul Baker & Colin Stevenson.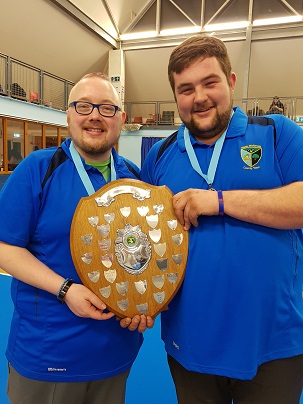 Chris Willies (left) pictured in his West Mids days