Report of Keith Banks Memorial Triples held on Sunday 24th October 2021
15 teams from the Breckland League contested the competition, in 3 leagues of 5 teams playing each other, with the 3 group winners and the best overall runner up going into the semi-final draw.
Winner of Group 1 Wymondham B.Barker, S.Easter and M.Barker 6 points +15 shots
Runner up Group 1 Mike Parsons, Owen Secker and Mike Minshull 6 points + 6 shots
Winner Group 2 Hingham M.Hunter, J.Hunter and M.White 8 points + 40 shots
Runner up Group 2 Forncett B.Preece, M.Smail and T.Ottewell 5 p0ints +15 shots
Winner Group 3 Carleton Rode G.Atter, T.Newby and K.Newby 6 points + 27 shots
Runner up group 3 Connaught A 1 D.Aldous, R.Taylor and P.McDonald 6 points + 12 shots
Semi-final results
Carleton Rode 6 v Hingham 8
Connaught A 8 v Wymondham 10
Final
Hingham 9 v Wymondham 5
Thanks to Hingham for hosting and using equipment
Thanks to all who put the equipment out and away
Thanks to Elaine Oatway for the raffle and all who brought prizes.
Thanks to Bob Oatway for the organisation
Last but not least a special thank you to Hazel Banks for again generously sponsoring the prize money.
Hazel then presented the awards and Cup
Report of the days play was courtesy of Bob Oatway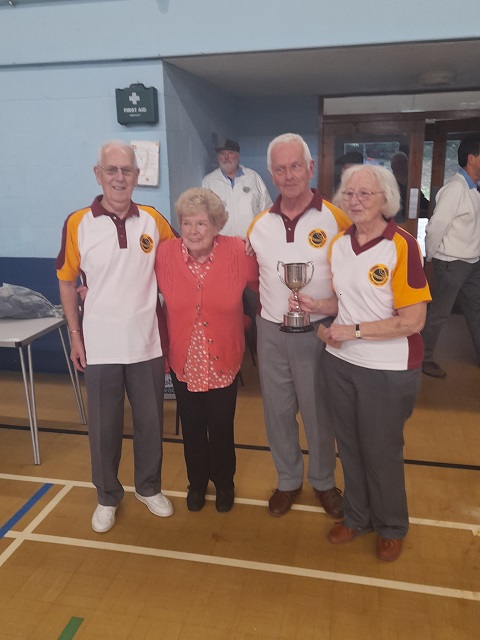 The Winners - Hingham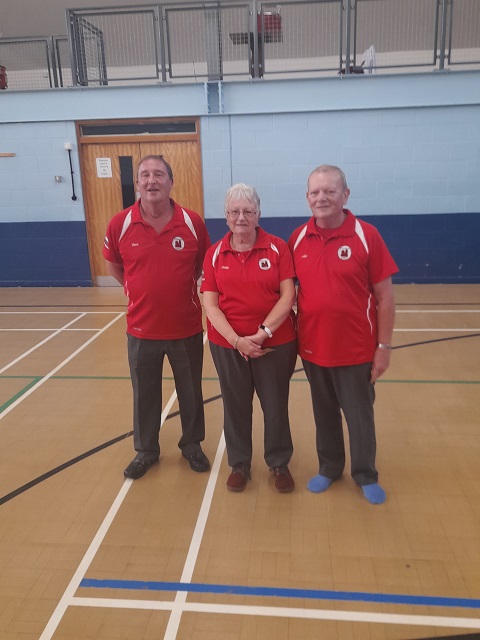 Runners-up Wymondham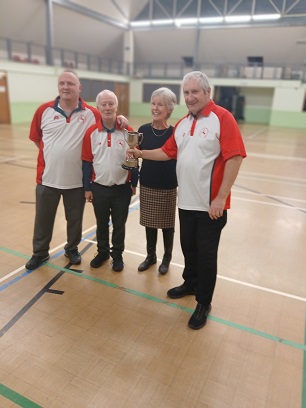 Hazel Banks and Elaine Oatway