Both Norfolk Premier and Norfolk "A" visited Essex for their second games of the I.C.C season and while Norfolk Premier held the home team to a 20-20 draw Norfolk "A" went down to a narrow 23-17 defeat.
Essex Premier v Norfolk Premier
In the opening session of the Premier match Jason Woods of Bob Carter beat Paul Bax 13-12 but Essex won on the other three mats to take an early lead 6-2 lead. But Norfolk hit back in session two to level the game with both triples games going their way as John Jeffery, Neil Davidson & Simon Willies won 13-9 and Robin Amos, Robbie Lamb & Karl Newby won by 13-12. Donna Lamb, Terry Newby, Rob Howlett & Bob Oatway added a 10-9 win in the rinks but Elaine Willies, Steve Easter, John Turner & Melvin Woods went down heavily by 25-1 against Anthony Faultley's rink. Another 6-2 win for Norfolk in the third session piled the pressure on Essex. The pairs overturned a thirteen shot deficit to take the bonus points in that discipline with Kerry Greenacre and Keith Cooke winning 20-7 and Halvergate's Ryan Fox & David Lamb winning 16-10. Jason Woods added his second win of the match beating Peter Faultley 12-11 but his Carter teammate Jamie Forster went down 19-8 to Bax as Essex collected the bonus points in the singles. A good last session would have seen Norfolk over the finishing line but Essex stormed back to secure a 20-20 draw. Melvin Woods' rink went down by 18-7 against Barry Hedges' four while Bob Oatway's rink lost by 12-8 to Faultley's rink. In the triples John Jeffery, Neil Davidson & Simon Willies went down by just one shot but a 14-3 win for Robin Amos, Robbie Lamb & Karl Newby, their second win of the match, secured the bonus points for Norfolk.
Essex "A" v Norfolk "A"
The first session of the match between Norfolk "A" and Essex "A" was shared. Tony Ottewell was in good form as he recorded an excellent 19-9 singles win but his shots were cancelled out as David Blundell lost by 18-7 in the other singles game. Ann Biddulph and Angela Bond of County Council won their first county pairs game together by 12-10 but Joan Costello of Hevingham and Forncett's Mike Smail went down 18-10. Another drawn session followed to leave the match level at 8-8 at the interval. In the rinks Billie Barker, Peter Harvey, Steven Lamb & George Hume won by 17-7 while Jenny Walker, Nigel Bevan, Glen Hume & Melvyn Barker drew their game 8-8. In the triples Will Townsend, Jill Hayman and George Clarke draw 12-12 but Jason Martin, Keith Baker & Ray Lamb went down 11-9. Session three saw the singles and pairs return to the action and once again the session was shared but Essex did enough to earn the bonus points in both disciplines. Tony Ottewell won his second singles game of the day, this time by 14-11, but David Blundell went down by 13-9. In the pairs Ann Biddulph & Angela Bond performed well under pressure on the final end to win their game 17-13 but it was another defeat for Joan Costello and Mike Smail who lost by 19-14. The last session of triples and fours saw Essex carve out a 23-17 win. Both triples games went their way as George Clarke's triple lost by 16-10 and Ray Lamb's triple lost 17-9. It had proved to be a difficult day for the triples who had gained just one point from ten. But it was a good day for the rinks as Jenny Walker, Nigel Bevan, Glen Hume & Melvyn Barker won by 19-4 and George Hume's rink drew 12-12 as they took eight out of ten points in that discipline. The match finished with Essex "A" winning 23-17 but Norfolk, with several newcomers in their team, will also be content with the final score.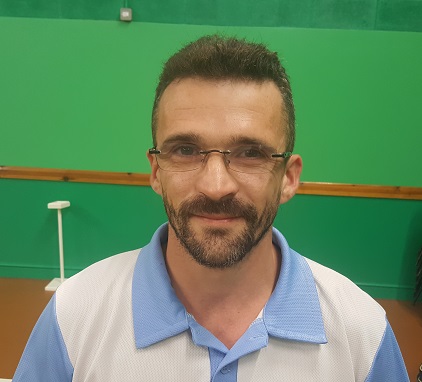 Two singles wins for Jason Woods against Essex Premier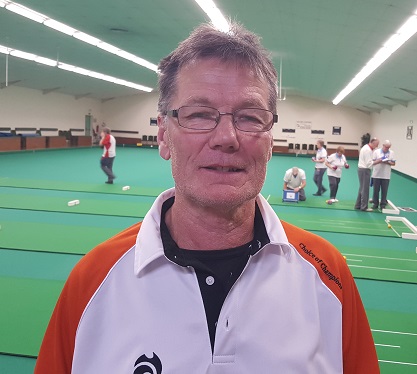 Two wins in the singles for Norfolk "A" bowler Tony Ottewell