The annual East Coast Triples & Pairs Week at Potters Resort in Hopton-on-Sea once again provided four days of competitive bowls in the famous International Arena. Competitors arrived on Bank Holiday Monday and enjoyed a five course meal in the Garden Restaurant with wine before enjoying a night of entertainment in the Atlas Theatre to start the week off in style. The East Coast Triples was played in four groups playing a round robin format starting on Tuesday morning with the group winners meeting in the semi-finals on Thursday afternoon with the Final and the Third Place Play-Off finishing the event on the Friday morning.
Group Stages
Anne and Keith Baker of Bradwell, with David Knights of Horsford BC at number two, were the surprise packet of the Green Group finishing four points clear at the top of the table ahead of Carleton Rode's Morris Taylor, Trish Taylor and Terry Newby in second place and Melvyn Barker of Wymondham in third. Bob Taylor & Derek Retchless won the title last year and this time were playing with Carol Taylor at lead. They put up stout and brave resistance but saw their hold on the trophy slip as they finished fourth. Level with Taylor's triple on points were 2015 winners Paula McCallum, Arthur Jackson & Mac McCallum of Durham and North Yorks who finished fifth in the group. In the Red Group Pauline Friel, Peter Richards & Tony Friel of Kent side Woodpeckers started as favourites having won the event in both 2016 & 2017. But with one match to play on the Thursday afternoon they trailed by one point behind Gill Coleman of Forncett and Jill & Russell Davidson of Carleton Rode. The last session in the group stages changed everything though as Friel's triple romped to an 11-1 win while Davidson's triple went down by 9-1 to leave the Kent triple through to the semi-finals. Another Woodpeckers triple comprising of Maureen Richards, Jan Davey & Jim Davey dominated the Blue Group losing only one game over the three days to top the group. Cambridgeshire's Rosemary Cooper, Linda White & Joe Peters were also in great form and their points tally would normally have seen them into the semi-finals if it was not for the Kent triple's performance. The vital game proved to be when they met each other in the 10am session on Thursday morning where the Kent triple edged a close game by 7-4 against the former England international from Cambridgeshire. If that game had gone the other way it would have been enough to win the group for Joe Peter's triple but it was not to be. Black Group winners were Steve Easter of Wymondham, Val Hestor of Harling and Glen Hume of Harling who finished two points ahead of three triples all tied on points. Hume's triple suffered a heavy 13-2 defeat in their second game on Tuesday morning against Neil Norris but a run of wins on the Thursday carried them to the top of the table. Rita Mansfield, Ray Rider & Michael Leale had headed the table but two defeats on Thursday morning cost them dearly and they finished second in the group. Val Vardy of Norfolk Over 60's, Sue Fox of Horsford Heroes and Bob Oatway of First Bus finished third with a 12-2 loss to Leale's triple on Wednesday morning proving fatal to their chances, a win in that game would have seen Oatway's triple win the group. In fourth place in the Black Group were Brian Sayer, Sue Banner & Veronica Copland of Framingham Earl who were level on points with the two triples above them.
Semi-Finals
In the semi-finals Keith Baker's triple faced Jim Davey's triple and with two ends remaining they were level on points. Keith Baker's triple took a single on the penultimate end and on the last end Anne Baker drew in a lead bowl beside the jack. The shot bowl looked extremely vulnerable with no protection and with the experienced Woodpeckers triple normally so accurate Baker's triple had cause to be concerned. But by the time Keith Baker stepped up to play his last bowl of the end their shot wood was still in place as four efforts by the Woodpeckers to nullify it had narrowly missed. Baker drew in a good wood about a foot behind the jack and awaited Jim Davey's final effort to save the match but yet again Anne Baker's bowl stayed in place and they had earned themselves a place in the final. In the other semi-final Tony Friel's Woodpecker's triple had a good start leading 6-0 after three ends against Glen Hume's Harling triple. There proved to be no way back for the Harling triple despite them taking singles on three of the last four ends as the Woodpeckers claimed a final place with an 8-3 result.
Final 3rd Place Play-Off
In the East Coast Triples Final, watched by an appreciative audience, Anne Baker drew in a wood beside the jack which remained as shot wood until Peter Richards drew in a nice wood on the forehand. But a good last bowl from Keith Baker took the jack back and Tony Friel was unable to retrieve the situation with his last wood and it was 1-0 to Baker's triple. A perfect opening bowl by Anne Baker just behind the jack won the battle of the leads and David Knights added a good second bowl. Peter Richards then attacked and missed and Knights put in the best back bowl. After Peter Richards second bowl just cleared the line Keith Baker added a third bowl to put Woodpeckers under real pressure. Tony Friel was then too heavy with his first bowl while Keith Baker was loose with his second. Friel's final bowl of the end only managed to force a measure for third wood which went in favour of Baker's triple for a 4-0 lead. Both leads, Anne Baker and Pauline Friel, struggled on a loose third end but Baker's triple were happy with the end result as they collected three more shots for a commanding 7-0 lead against the pre-match favourites. After good bowls from both Anne Baker and Pauline Friel on the fourth end, David Knights played a superb bowl to put his triple in control. But things changed after Keith Baker's second bowl tipped a Woodpeckers bowl into shot position and Tony Friel drew in a second with his last wood to reduce Baker's lead to 7-2. The Woodpeckers knew that a good fifth end was needed to get them back into the game now that they were finally on the scoreboard but another loose end was decided by Bradwell's Keith Baker who first drew in a toucher and then drew in second wood to extend his triples lead to 9-2 with two ends remaining. On the penultimate end Anne Baker held shot wood after the leads had bowled. Keith Baker later added a great bowl behind the jack before Tony Friel reduced the count to just one. Keith Baker replied by drawing in a toucher to hold two shots once again but a weighted backhand shot by Tony Friel resulted in his triple scoring two shots to cut Baker's lead to 9-4 and keep the game alive going into the final end. Needing to score five shots to even force an extra end was always going to be a tall order and Tony Friel's task was not made any easier as David Knights drew in a bowl about a foot behind the jack while Anne Baker had a bowl sitting about the same distance in front of the jack. A great toucher played by Keith Baker made it even more difficult for Friel and he had no option but to try and kill the end with his last bowl. A brilliant effort by Tony Friel appeared to have a great chance of doing just that but he was extremely unlucky to see the jack stay on the mat with Baker's triple still holding shot for a 10-4 win. The win for Anne Baker, David Knights and Keith Baker was the first for a Norfolk triple since 2013 when Kerry Greenacre, Di Boswell & Mick Boswell of Windows lifted the East Coast Triples trophy.
3rd Place Play-Off
Steve Easter, Val Easter & Glen Hume drew first blood in the third place play-off game taking a single on the first end but Maureen Richards, Jan Davey & Jim Davey took two shots on the second end for a 2-1 lead before a single for Hume's triple made it 2-2 after three ends. Another single for Woodpeckers gave them a 3-2 lead before a fabulous four shots on the fifth end opened up a five shot gap. The penultimate end saw Woodpeckers move 8-2 up and the last end provided just a consolation one shot for Hume's triple as Jim Davey's triple celebrated an 8-3 win.
East Coast Pairs
The East Coast Fast & Furious Pairs was played over two nights for those wanting to commit themselves to extra short mat bowling. After the entries were taken by Event Co-Organiser Teresa Goldsmith at Monday's Welcome Meeting, the format was published which would give each pair time to play six games over Tuesday and Wednesday evenings after the draw was made for playing numbers. These would be followed by the semi-finals at 9pm on Wednesday immediately followed by the Final and Third Place Play-Off. At close of play on Tuesday all the pairs had played their first four games and incredibly only two pairs still had maximum points and they were Wendy Tweed & Keith Thomas and Tony Drew & Mick Leale. They were closely followed by Barry Fox & Geoff Ward, who had won three games and drew one, while no less than seven pairs were on six points and still in contention. The two remaining sessions on Wednesday saw Wendy Tweed & Keith Thomas lose their first game by just 6-5 to George Cody & Pauline Barsby of Harling before returning to winning ways against Joy & Will Townsend but that one defeat would ultimately cost them a semi-final place. Tony Drew & Mick Leale also lost their opening game against Peter Richards & Tony Friel but their shot difference would prove enough to get them into the semi-finals after they won their second game on Wednesday night against Carol & Mally Kemp. Barry Fox & Geoff Ward also won one and lost won and that was the end of their East Coast Pairs challenge for this year. When each pair had completed their six games six of the pairs were tied on eight points so shot difference decided the semi-finalists. Tony Drew & Mick Leale were on +32, Maureen Fyson & David Blundell on +23, Joan Costello & Sheila Bragg on +22 and Richard Broad & Jim Delaney on +20. Just missing out were Wendy Tweed & Keith Thomas on +18 and Carol & Bob Taylor on +16.
East Coast Pairs Semi-Finals
In the semi-finals Tony Drew & Mick Leale faced Richard Broad & Jim Delaney with Broad & Delaney hitting top form at just the right time as they produced a 9-3 win despite dropping two shots on the opening end. The other semi-final was close throughout with Joan Costello & Sheila Bragg taking a one shot lead into the last end against Maureen Fyson & David Blundell. Another tight end saw Costello & Bragg picking up another single to win 5-3.
East Coast Pairs Final & Third Place Play-Off
The final saw Richard Broad of Shropham & Jim Delaney of Banham take a single on the opening end against Joan Costello of Hevingham & Sheila Bragg of Connaught but were rocked on the second end as excellent bowling by Costello & Bragg earned them four shots and a 4-1 lead which became 5-1 after the next end. Their opponents got back into the game with two shots on the fourth end but a single on the penultimate end saw Joan Costello & Sheila Bragg take a 6-3 lead into the last end. Impressive bowling by Costello & Bragg earned them a single on the final end and a 7-3 victory to win the East Coast Pairs. The third Place Play-Off went to an extra end after finishing at 6-6 after the specified six ends. Kent's Tony Drew & Mick Leale took a single on the extra end against Maureen Fyson of Cambs & Wortwell's David Blundell to win the game 7-6.
Next Year's Event
Next year the ninth annual East Coast Over 50's Triples & Pairs Week will again take place on May Day Bank Holiday week with bowlers booking in on Monday 4th May 2020 for four nights and leaving on Friday 8th May. Potter's Resort has again offered a huge saving on their normal brochure prices for short mat bowlers booking through the NCSMBA Over 60's Organiser Teresa Goldsmith. The short mat bowls holiday event is open to all bowlers from any county or country, and their non bowling family and friends, and costs from just £279 per person. This includes your accommodation, entertainment in the Atlas Theatre and meals in the Garden Restaurant as well as use of their other facilities of which details can be found in the Potters Brochure. Details can be obtained from Teresa by phoning her on 01603-403628.
PHOTO GALLERY
East Coast Triples
Winners Keith Baker, Ann Baker & David Knights with Jack Jenkins of Potter's Entertainment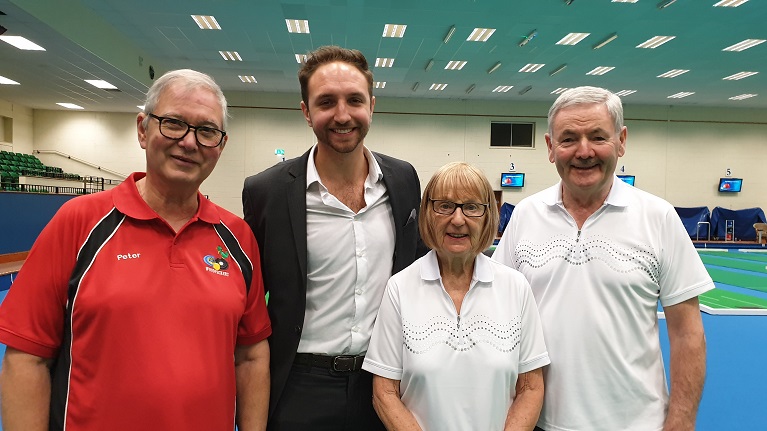 Runners-Up Peter Richards, Jack Jenkins of Potters, Pauline & Tony Friel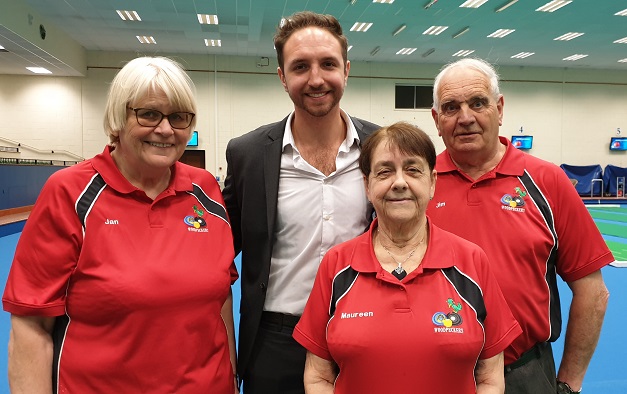 Third Place Jan Davey, Potter's Jack Jenkins, Maureen Richards & Jim Davey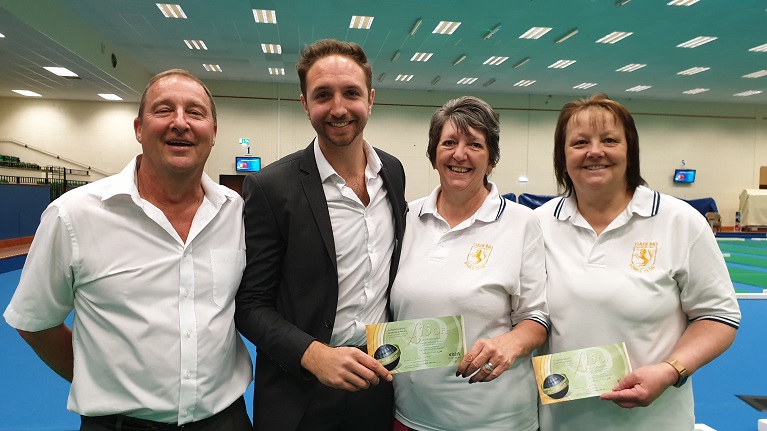 Fourth Place Steve Easter, Potter's Jack Jenkins, Glen Hume & Val Easter
East Coast Pairs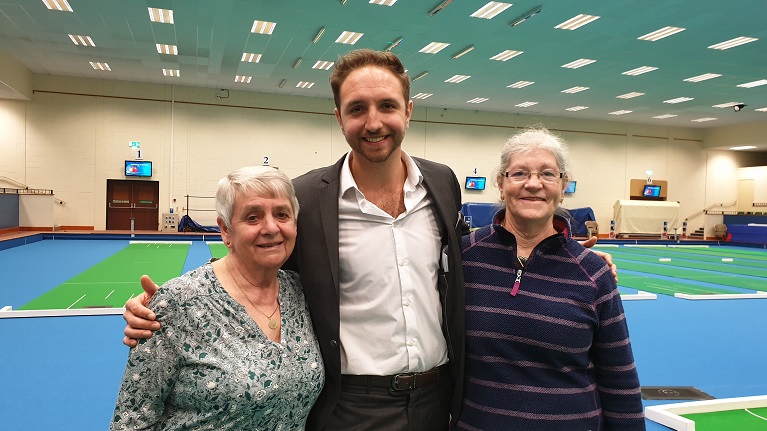 Winners Sheila Bragg, Potter's Jack Jenkins, Joan Costello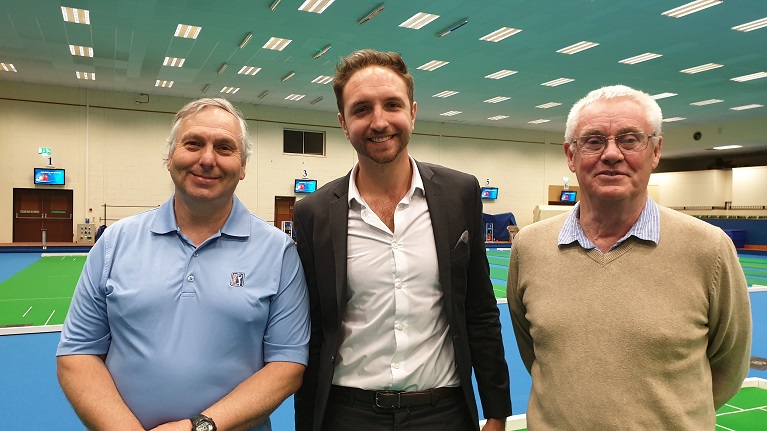 Runners-Up Richard Broad, Potter's Jack Jenkins and Jim Delaney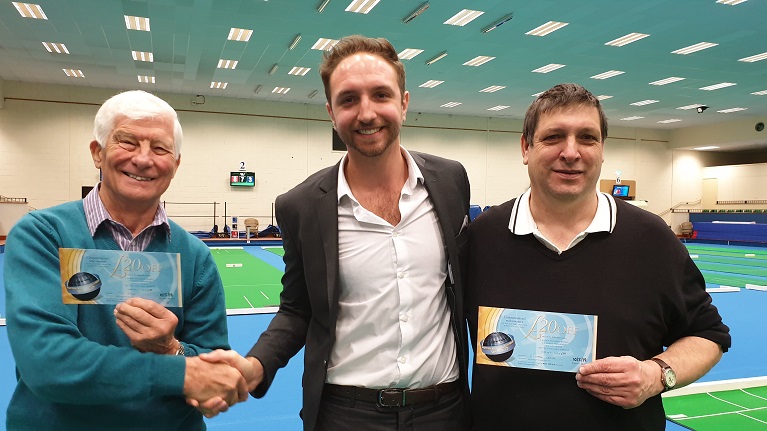 3rd Place Tony Drew, Potter's Jack Jenkins and Mick Leale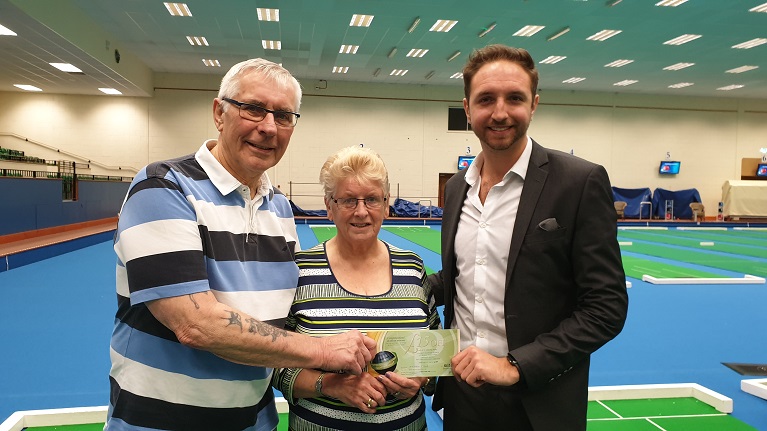 4th Place David Blundell & Maureen Fyson with Potter's Jack Jenkins