Sunday 17th March saw the Coastal League AGM followed by the last competition of the winter season, the Coastal Triples at Hemsby Village Hall. It followed the usual format of a Round Robin on four mats with four teams on each mat. Group 1's winning team with maximum points was Woodbastwick Eagles, Doreen Scarff, Margaret Capps and Skip Tony Wright. Runners up were Pam Frost, Trish and David Wooden of Hemsby Harvesters. On Mat 2 two teams finished with 4 points each, winners on shots was Bradwell Robins , skip Roger Squires with Phil Fiske and David Chilvers, runners up Hemsby Beachcombers, Ray and Deb Staniford with John Beadle. The Bradwell Dynamos triples of Keith and Anne Baker and John Cooper were winners on Mat 3, one point ahead of runners up Derek Sheldrake, Brian Frost and Jenny Walker of Woodbastwick Owls. Three teams shared the points on Mat 4 so the results were down to shots, Ray Lamb, Ron Beardal and Christine Cooper of Bradwell Dynamos emerging winners over Martham's Iris Buchanan, and Peter and Jackie Matthews.
The strong Beachcombers triple had an impressive win over Woodbastwick Eagles in the quarter finals. Another very high scoring game saw Bradwell Robins triumph over Hemsby Harvesters. The other two quarter finals were much closer, Martham just pipping Bradwell Dynamos, and Woodbastwick Owls needing an extra end to beat Bradwell Dynamos.
The Robins team of Roger Squires, Phil Fiske and David Chilvers continued to show fantastic form in the semi-finals with a 10-0 win over Martham. Derek Sheldrake, Brian Frost and Jenny Walker's Woodbastwick Owls triple had a comfortable win over the Beachcombers.
As usual, the mat was moved for the final, placed diagonally across the hall. This often has an off-putting effect on players, and the Robins found it more difficult to find the lines. Derek Sheldrake, Brian Frost and Jenny Walker finished the match winning 5-3.
At the end, thanks were given to Terry Nash, the retiring Chairman, who had worked very hard over the last few years, running every competition with efficiency and composure.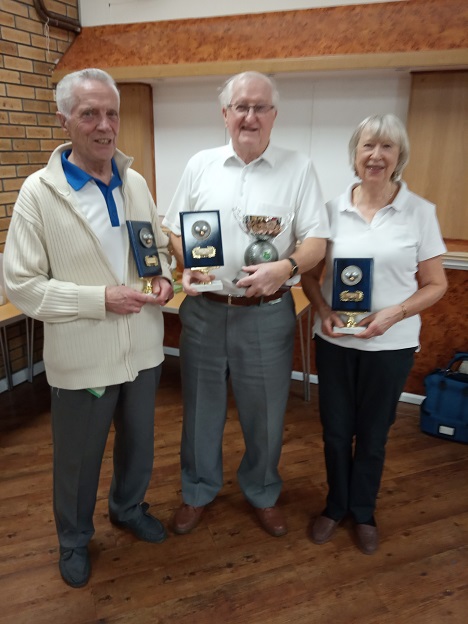 Brian Frost, Derek Sheldrake and Jenny Walker - Winners!