Hingham Sports & Social Club was the venue for the British Isles Top Team Championships at the weekend as the English, Welsh and Irish champions clashed in this prestigious annual event. The competition is held in England once every three years, and normally at the host counties' venue, so it is a complement to both Hingham Sports & Social Club and the Norfolk CSMBA that West Mids requested their co-operation in staging it in Norfolk. The Irish have dominated the Top Team event since its inception rarely losing their grip on the title but this year West Mids proved far too strong for Irish champions Oriel. The boys from Birmingham brushed aside both Oriel and Welsh champions Pembrokeshire as they powered their way to the title impressing spectators with an awesome display of bowling at its best. West Mids opened with a 14-2 points win against Pembrokeshire on Saturday morning with captain Josh Hale leading the way with an 18-4 win in the fours. They then moved firmly into the driving seat defeating Oriel 12-4 with Ross Dunkley beating Paul Duff 20-5 and Craig Strong beating Sean Conroy 19-5 in the singles. After Oriel beat Pembrokeshire 12-4 on points in the third round West Mids returned to the mats to inflict a damaging 10-2 points defeat on the Welsh champions in the international fours session. Saturday finished perfectly for the English champions as they won the last session by 11-5 on points against Oriel with Ross Dunkley beating Niall Hand by 20-6. Sunday's play began with the Irish determined to keep their title hopes alive and a 14-2 points win against Pembrokeshire left the Welsh champions hopelessly adrift. West Mids came back on to face Pembrokeshire and it proved another poor session for the Welsh as West Mids won 11-5 on points to move 24 points clear of the Irish. This session saw Ross Dunkley again in brilliant form beating Rhydian Rees by an incredible 31-2 margin. West Mids then took to the mats against Oriel in the international fours needing just one point to clinch the title but by now it was a foregone conclusion. Wins for rinks skipped by Chris Willies, Josh Hale & Alan Jones, and a draw for Ross Dunkley's rink, saw West Mids take the session by 9-3 on points leaving them celebrating a famous victory masterminded by County Chairman Chris Willies and captain Josh Hale. The closing ceremony was conducted by Chris Willies with ESMBA President George Clarke presenting the winners shield to the West Mids. The West Mids Chairman thanked the NCSMBA, Hingham Sports & Social Club and Teresa Goldsmith's Norfolk Over 60's group for their work in making the event a great success as well as the umpires and the caterer Mike Smail who provided excellent meals on both days. Next year's Top Team event will be held in Ireland.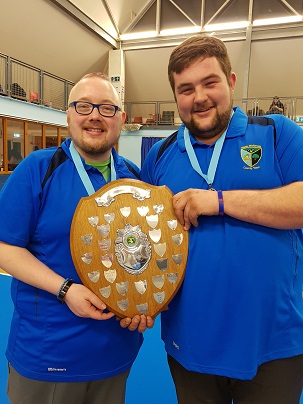 Chris Willies & Josh Hale - Happy Days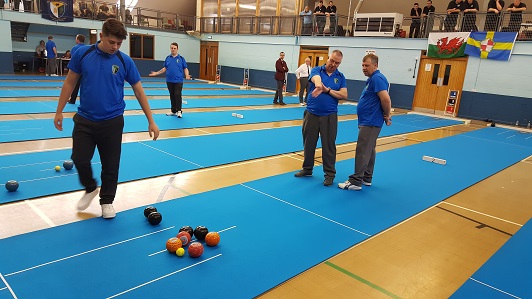 Decision Time

Action from West Mids v Oriel game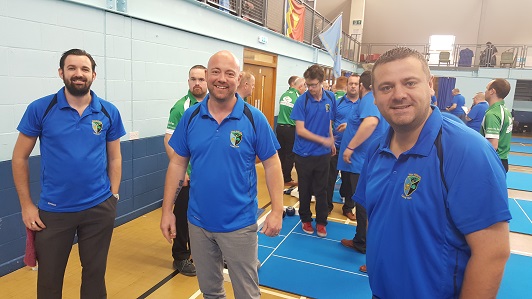 Smiles of success!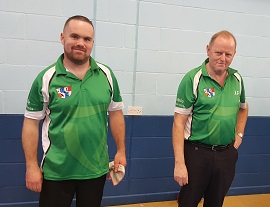 Oriel - first time visit to Hingham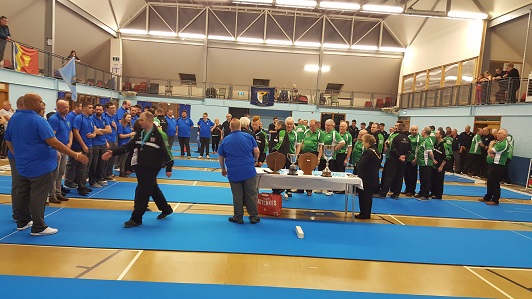 Presentation Ceremony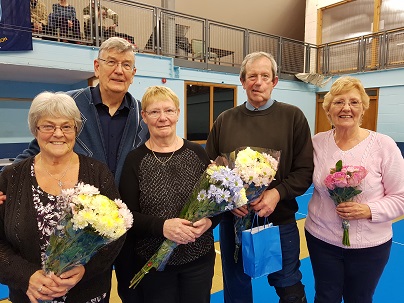 Chef Mike Smail and the Norfolk Over 60's team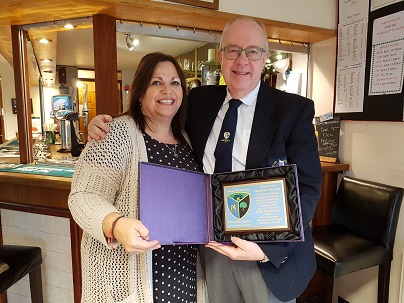 Tracey Scent and Simon Willies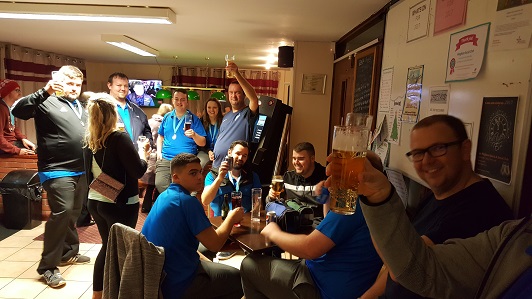 West Mids celebrating in Hingham Sports & Social Club Bar