After a two year break, due to covid, bowlers flocked back to the Potters Resort in Hopton-on-Sea eager to take part in the East Coast Triples & Pairs event in the famous International Arena. The event again attracted short mat bowlers from many different counties ranging from Durham in the north, Kent in the south, and as far west as Dorset. The total number, not far short of two hundred, were able to take advantage of the very special deal always offered for this annual All-Inclusive break at way below Potter's brochure price.
EAST COAST TRIPLES - Photos at end of reports
The East Coast Triples was played over four days with five groups playing in a round robin format to qualify for the quarter-finals on Thursday afternoon. East Harling's Colin Hayman, Jill Hayman & George Hume were in brilliant form reeling off win after win in Black Group until losing their last two games, but by then had opened up a gap on their nearest rivals and qualified as group winners. Group runners-up were Jeff Branch, Dennis Mack & Margaret Hare who were just one point short of qualifying for the quarter-finals. Red Group winners were Jim Delaney & Richard Broad of Shropham, playng with Margaret Rea, and group runners-up Gill Coleman of Forncett and Jill Davidson & Russell Davidson of Carleton Rode who also qualified. In the Blue Group the winners were Paul Whitcombe of Great Ouseburn, David Blundell of Wortwell & Roger Green of Easingwold with Carol & Bob Taylor and Pat High of Essex as runners-up who also went through. In the Green Group Durham's Paula & Mac McCullam, playing with Easingwold's Arthur Jackson, topped the group. In the runner-up spot were Suffolk triple Gloria Scott, Cheryl Grabham & Michael Rice who just missed out on qualifying but were genuine contenders in their first appearance at the event. Purple Group winners were Ivan Lunn, Maria Kitchener and Richard Kitchener of Derbyshire with a 20 point tally and qualifying as one of the three best runners-up were Paul & Julia Bruce of Shillington & Alan Hare of Letchworth. In the quarter-finals George Hume's triple powered their way to a 12-3 win against Russell Davidson's Triple in an all Norfolk affair while North Yorkshire's Roger Green beat Bob Taylor of Essex 9-2. Alan Hare's triple beat Richard Kitchener 6-3 and Margaret Rea's triple beat Mac McCullam's triple 8-6 on an extra end. The semi-finals produced two excellent matches. A single on the last end saw George Hume's triple reach the final with a 9-8 win against Roger Green's triple while Alan Hare and Margaret Rea's triples went into the last end of their semi-final level on points before two shots to Alan Hare's triple saw them clinch a finals place. It was great to see a large attendance of spectators for the final, and the third place play-off, on Friday morning. That is something that is often missing in short mat finals at many levels but never the case at the East Coast Triples event. Colin Hayman, Jill Hayman & George Hume drew first blood against Paul Bruce, Julia Bruce & Alan Hare in the final taking two shots on the opening end after number two Jill Hayman had drawn in a lovely bowl to the jack and skip George Hume had added a second. Opposing skip Alan Hare passed close to the jack with both of his bowls but saw them just run through the head. On the second end Julia Bruce drew in for shot from the number two position and a superb backhand draw by skip Alan Hare made it two shots with his final bowl. On the third end Paul Bruce drew in a perfect forehand shot with his opening wood but an attacking bowl by Colin Hayman opened up the head. Julia Bruce then made a decision to attack on the forehand and played the shot of the game so far as she ditched the jack to hold two shots. George Hume managed to remove the second wood but Hare's triple now led 3-2. The fourth end proved to be crucial. Good bowls by both Julie Bruce and Jill Hayman set up a competitive end with the jack being pushed to the rear of the mat. Then George Hume buried the jack in the ditch with a glorious shot that earned his triple three shots and a 5-3 lead. Colin Hayman started the fifth end by putting further pressure on their opponents with a great first wood onto the jack but Julia Bruce managed to open up the head somewhat. By the finish of the fifth end the umpire was needed to determine shot and it was the Harling triple who won the measure for a 6-3 lead. Another good bowl from Colin Hayman on the sixth end was followed by a second by left hander Jill Hayman to leave Hume's triple in a good position. Julia Bruce sent an attacking bowl down the mat to improve things for her triple but by the finish Harling still took another single for a 7-3 lead. Alan Hare's triple really needed shots on the penultimate end to stand a realistic chance going into the last end but after the umpire was called in to measure for shot another single went Hume's way and the last end began with them leading 8-3. A brilliant attack shot by number two Julia Bruce swept the jack into the ditch leaving her bowl just half an inch away. But George Hume clinched the match by promoting a toucher into the ditch close to Julia's bowl and there was nothing Alan Hare could do and the end was effectively over with the final score 8-4 in favour of the East Harling triple. The third place play-off was won by Paul Whitcombe, David Blundell & Roger Green who beat Jim Delaney, Richard Broad & Margaret Rea 11-4 with the final end left unplayed.
EAST COAST PAIRS - Photos at end of reports
The East Coast Pairs was played over three evenings with a random draw giving each triple seven games with the top four qualifying for the semi-finals. The event is held for the bowlers who like evening bowls as well as day bowls. The entry for this is always smaller as many like to enjoy the other activities on site after their evening meal in the Garden Restaurant. Thirty Four pairs took part this year. In the semi-finals Julia Bruce and Bill Gearing took a single on the last end to beat Val Vardy and Keith Baker 6-5. The other semi-final was won by Richard Broad and Jim Delaney who beat Arthur Jackson and Paul Whitcombe 10-4. In the final Richard Broad and Jim Delaney scored a full house four on the opening end but failed to add another shot. Julia Bruce and Bill Gearing scored two on the second end, a single on the third followed by two three's to lead 9-4 and the last end was left unplayed. In the third place play-off Arthur Jackson & Paul Whitcombe played Val Vardy and Keith Baker and the score was level at 5-5 after the last scheduled end. The extra end saw the North Yorkshire players take two shots against Val Vardy and Keith Baker to earn third place.
The Presentation Ceremony and Photo Call was held on Friday morning following the East Coast Triples Final and conducted by Event Organisers Teresa and Selwyn Goldsmith and popular Potter's Resort entertainer Rachel Baade. The bowlers showed their appreciation of the organiser's work with a generous presentation to them made by Will and Joy Townsend. Next year's event will start on Bank Holiday Monday 1st May 2023 and run through to Friday 5th May 2023. (4 Night All-InclusiveStay). Bookings for this event can only be made through NCSMBA Membership Secretary Teresa Goldsmith at a very special price of £405 Per Person, normal brochure price for this stay is £529 Per Person. Teresa can be contacted on 01603-403628. Please be aware that places are limited for this event and tend to sellout fast. Over 100 bowlers have already booked!
EAST COAST EVENT PRESENTATIONS - TRIPLES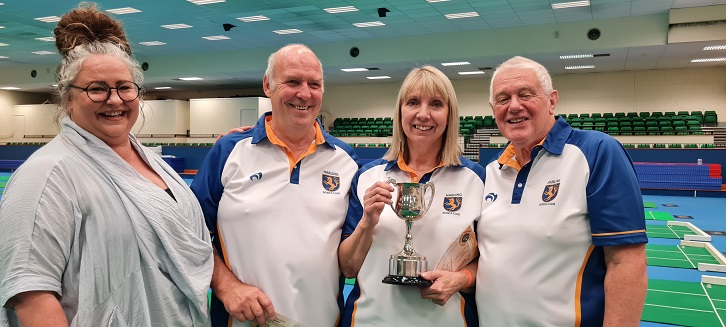 Potter's entertainer Rachel Baade with triples winners George Hume, Jill Hayman & Colin Hayman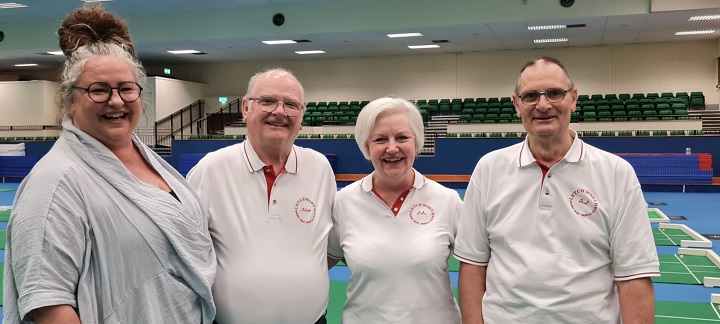 Potter's entertainer Rachel Baade with runners-up Alan Hare, Julia Bruce & Paul Bruce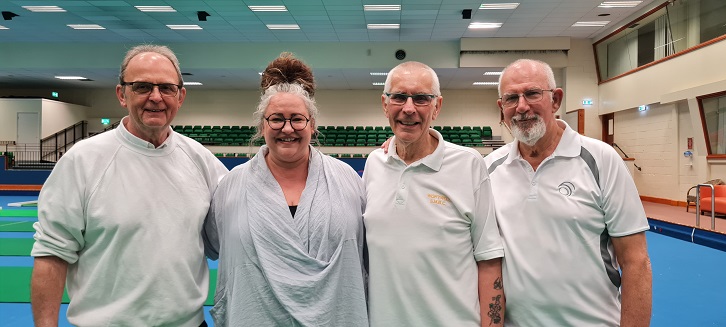 Paul Whitcombe, Potter's Rachel Baade, David Brundell & Roger Green - 3rd Place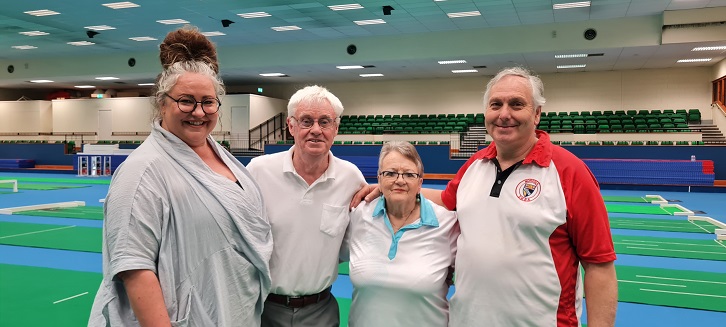 Potter's entertainer Rachel Baade with 4th placed Jim Delaney, Margaret Rea & Richard Broad
EAST COAST EVENT PRESENTATIONS - PAIRS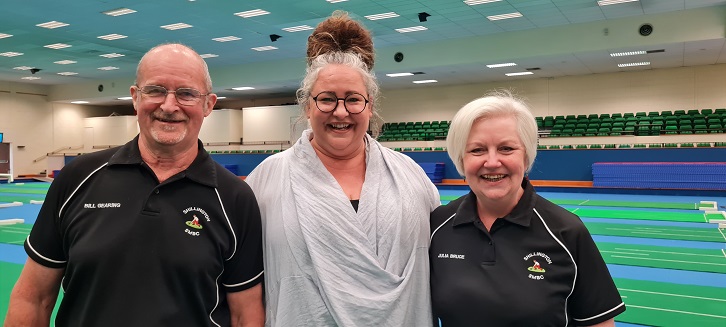 Pairs Winners Bill Gearing and Julia Bruce with Rachel Baade of Potter's Entertainment Team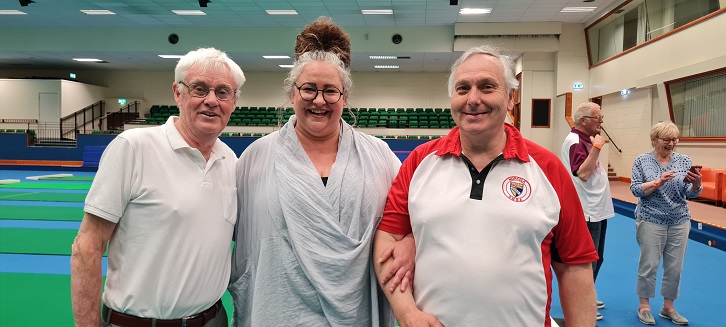 Pairs Runners-up Jim Delaney and Richard Broad with Rachel Baade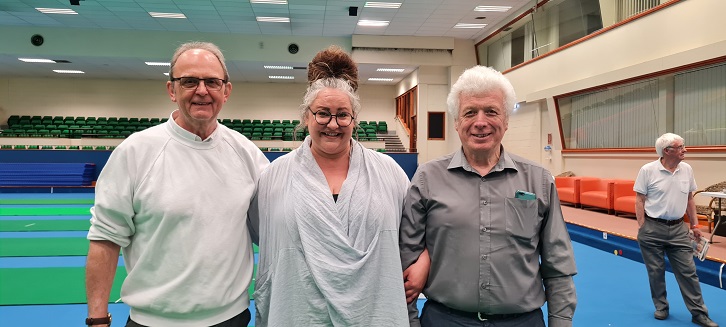 Pairs Third placed Paul Whitcombe and Arthur Jackson with Rachel Baade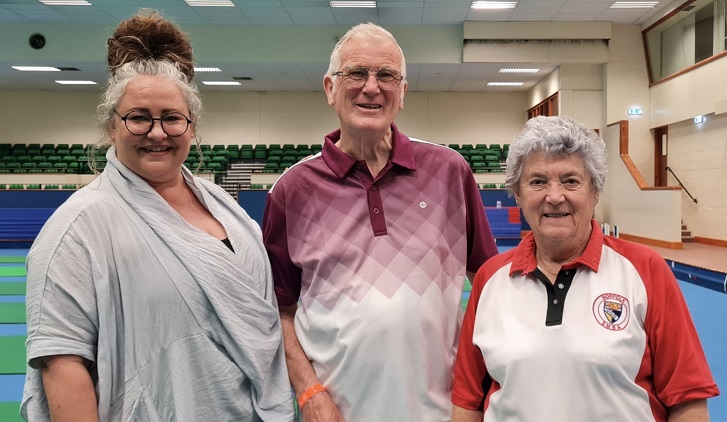 Pairs fourth placed Keith Baker and Val Vardy with Rachel Baade