Following the decision of the ESMBA to produce a new format for the Inter-County Championships for the 2021/22 season, the NCSMBA Management Committee have decided to enter their Premier and "A" Teams into the competition. The new format potentially requires fewer playing members and matches are played home and away on the same day with half the team playing at home and half playing away. This does mean that financially this will result in a challenging season but it is thought that any losses can be sustained for this one season. Feelings on the Committee were mixed but a majority felt it right that the Norfolk County teams should have the opportunity to play. The revised format has of course been produced in light of the continuing government restrictions which even if they end on the 19th July will have a knock-on effect for the forthcoming season. The National Finals meant to be played in April 2021 are now scheduled to take place from Thursday 16th September to Sunday 19th September 2021 and the postponed I.C.C Semi-Finals and Final are now set for 11th/12th September 2021 and the 26th September 2021. With less weekends therefore being available for the 2021/22 winter season events it was felt that playing the new season's I.C.C in a revised format would help counties fit in their competitions. It is believed that some counties are likely not to enter with the revised format but it is hoped that enough will decide to enter to make the competition viable.
Do you wish to play for Norfolk?
Norfolk County Team Manager Simon Willies has already had a very good response from members of the County Squad interested in playing this season but a few squad players have still not responded to his request for them to contact him regarding their availability. He requests that they do so as soon as possible. He would also like to hear from any other bowlers interested in playing for the county and requests that they contact him either by email or phone. His contact details, both email and phone, can be found on the Management Page of the Norfolk website. If any players have any questions or queries as to what is involved in playing for the Norfolk County Team he would be delighted to talk to them.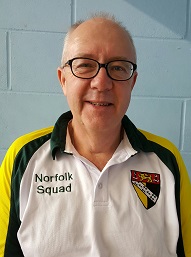 Simon Willies - Norfolk Manager