Boris Johnson's new "Rule of Six" seems to have caused some confusion among short mat bowlers but the ESMBA has moved quickly to clarify the situation. One of the exemptions to the new rules listed by the Government is for organised sports and activities, and that includes Norfolk short mat bowls clubs who have obtained "Safe Club Status" from the ESMBA through their County Association Safeguarding Officer Teresa Goldsmith. A further clarification has been issued regarding the 1 Hour Session rule. Both statements by the ESMBA are shown below for the information of NCSMBA clubs.
Covid 19 Social Gatherings update
The ESMBA can now confirm that those clubs that have achieved The ESMBA 'Safe Bowls Status' can continue to provide organised sessions for members from todays new social gathering restrictions.
These sessions must be held within the Safe Bowls Status as supplied to and approved by the ESMBA.
The statement from Sport England includes "the government confirmed that organised sports and activities that have been through return to play protocols can continue"
As you are aware the ESMBA Safe Bowls protocol was submitted and reviewed by the Department of Digital Media and Sport. Only Clubs that Affiliate their members to the ESMBA and have achieved Safe Bowls Status will be exempt from the new social gathering restrictions
Clarification of the 1 Hour session ruling
Each session is to be an hour or part thereof.
If two session are run then a break is needed before the next session arrive, so that equipment can be sanitised.
However if no new players join, sessions can run consecutively* but players must remain on the same mat. No break required
If New members join and replace previous session bowlers then a break is still required to sanitise all equipment.
*please note this word was amended in the ESMBA statement after its announcement on 16-9-20*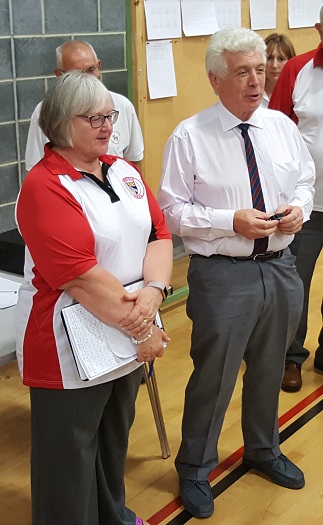 NCSMBA Safeguarding Officer Teresa Goldsmith pictured here with North Yorkshire's Arthur Jackson