The first leg of the annual Friends of Essex v Norfolk Over 60's took place in Chelmsford where a great comeback by the visitors earned them a 64-64 points draw in an exciting and enjoyable encounter. The home side got out of the blocks fast with the first triples session played on eight mats returning an 11-5 points win for Essex. The second session of pairs saw the lead increase to 22-10 with yet another 11-5 points win for Essex. Back came the triples for session three and the visitors cut the deficit slightly with a 9-7 points win. Session four saw Norfolk's pairs inflicting a 10-6 points win but Friends of Essex were good value for a 35-29 halftime lead. The fifth session was drawn 8-8 but the Norfolk pairs came out on top in session six with a 10-6 win to leave them just two points behind with two sessions to play. The seventh session saw Essex increase their lead again with a 12-4 win for their triples to leave them up by 61-51 with just one session of pairs left to play. But Norfolk then produced the biggest session win of the day by 13-3 to tie the match at 64-64 and earn a 534-512 shots lead. Morris Taylor and Terry Newby returned four wins of 10-4, 10-9, 17-5 & 16-8 in the pairs while Kerry Greenacre & Selwyn Goldsmith were also unbeaten with three wins of 10-7, 10-6 & 15-8 and a 7-7 draw. Also in the pairs Wendy Tweed & Keith Thomas won three games out of four as did Sue Fox & Mike Boswell. In the triples Sheila Redwood, Jill Hayman & Trish Taylor won three games as did Mick Colledge, David Quadling & Tony Oram. The second leg will be played at Hingham in August.
Line-up prior to the match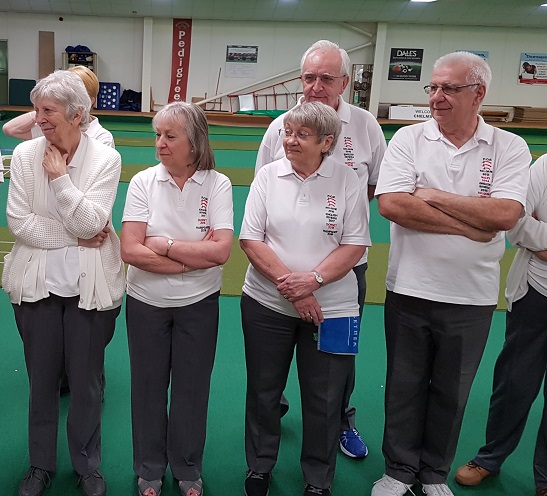 Friends of Essex players ready for action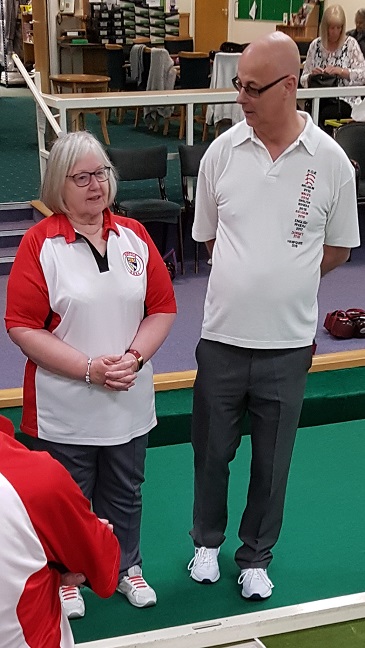 Teresa Goldsmith of Norfolk and Tony Ealham of Essex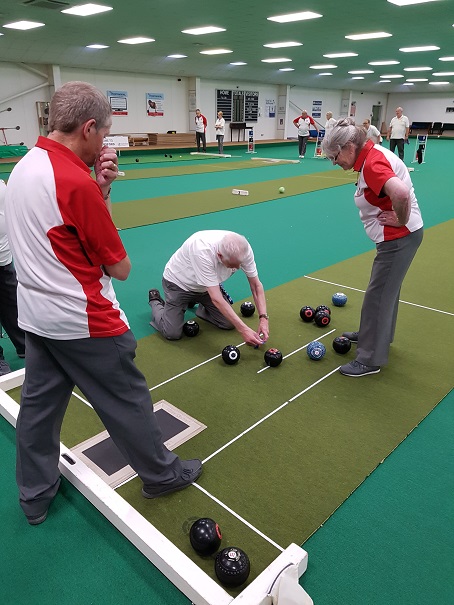 Measuring for shots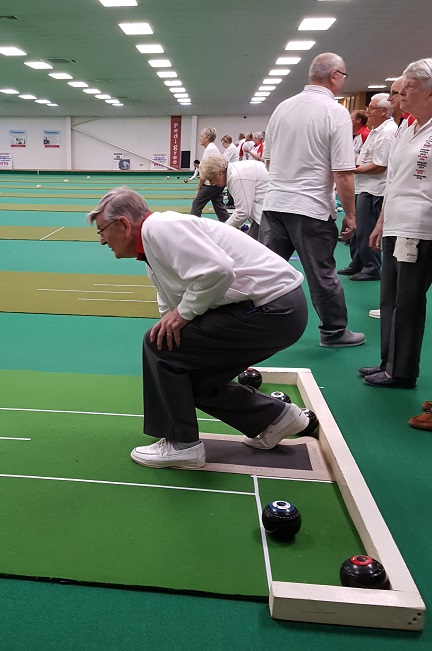 Norfolk Over 60's Graham Tweed in action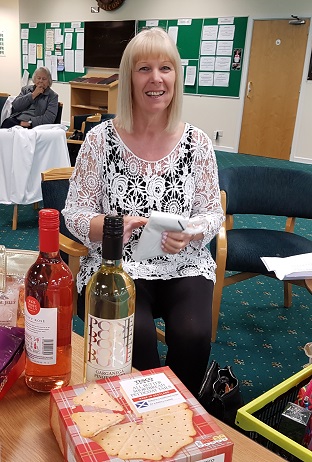 Debbie working hard on the raffle table!