The four Bure Singles Championship heats took place with the top two in each heat qualifying for Finals Night which will be held later in the season. At Thorpe Marriott three players, Chris Mann, Robin Amos & Jason Woods, all finished on six points with shot difference deciding the issue. Chris Mann lost his opening game by 10-7 against East Tuddenham team-mate Robin Amos but wins of 15-5 against Avril Walker of Windows, 14-8 against Jason Woods of Halvergate and 13-4 against Hevingham's Marjorie Hall gained Mann first place on the night with a shot difference of +23. Robin Amos grabbed the other qualifying place with a shot difference of +16 with his only defeat by 10-9 against Jason Woods who finished third with +11 shots. Marjorie Hall finished with two points while Avril Walker failed to score. The heat at Windows saw John Jarvis of Thorpe Marriott unfortunately taken ill after just one game so just four players competed for the rest of the evening. David Lamb of Halvergate won with maximum points ahead of Margaret Harman of Woodbastwick who finished second with 3 points and +6 shots. Paul Isgate of Horsford BC also scored 3 points but missed out on shots while Peter Fox of Horsford Heroes failed to score. The last session decided the issue at Halvergate where John Turner of East Tuddenham was in top form winning all his four games for eight points. Melvin Woods of East Tuddenham was the seeded player but going into the last session looked likely to be on his way out. Melvin Woods and Lianne Mills of Woodbastwick were both on four points but while Mills was playing Richard Moore of Hevingham, who had lost all his three games up to that point, Woods was up against Turner. John Turner continued his good form beating Melvin Woods 11-3 but Lianne Mills suffered a surprise 8-5 defeat against Moore. This left Woods snatching second place with four points and +2 shots while Mills was third with four points and -7 shots. Lianne Mills will be disappointed considering she fought back from 9-0 down against Melvin Woods in session three to win 11-9. Richard Moore and Sue Fox of Horsford Heroes both scored two points each. The Woodbastwick heat saw seeded bowler Simon Willies of East Tuddenham eliminated. Halvergate's Robbie Lamb lost his opening game by 9-5 against Tony Turner of Thorpe Marriott but three straight wins saw him grab first place with 6 points and +13 shots. Tony Turner also finished on 6 points and +2 shots for second place. A 9-7 defeat for Mike Boswell of Windows against Lamb in his final game cost him a place on Finals Night while Terry Raisbury of Horsford BC and Simon Willies finished with two points apiece.
The Bure Singles Finals Night will therefore be contested by Chris Mann, Robin Amos, John Turner & Melvin Woods all of East Tuddenham, Robbie Lamb and David Lamb both of Halvergate, Margaret Harman of Woodbastwick and Tony Turner of Thorpe Marriott.
The full line-ups of the Bure Triples, Pairs & Singles Championships, with dates and venues, are listed below.
The Bure Pairs Finals Night will be held at Horsford BC
on Wed 20-3-19
Ray Lamb & Robbie Lamb (Halvergate)
David Sharpe & Steve Hall (Hevingham)
Ryan Fox & Kerry Greenacre (Halvergate)
Jason Woods & David Lamb (Halvergate)
Josh Baxter & Keith Cooke (Halvergate)
Simon Willies & Melvin Woods (East Tuddenham)
Derek Sheldrake & David Brawn (Woodbastwick)
Robin Amos & Robert Howlett (East Tuddenham)
The Bure Triples Finals night will be held at Thorpe Marriott
on Thursday 21-3-19
Ryan Fox, Josh Baxter & David Lamb (Halvergate)
Peter Jablonowski, Norma Jablonowski & Willie Jefferies (Woodbastwick)
Jason Woods, Robbie Lamb & Keith Cooke (Halvergate)
Derek Sheldrake, Brian Bunting & Ron Elliott (Woodbastwick)
Jean Woods, John Turner & Melvin Woods (East Tuddenham)
Teresa Goldsmith, Pat Williamson & Selwyn Goldsmith (Hevingham)
Ray Lamb, Morgan Warnes & Simon Warnes (Halvergate)
Keith Halford, Avril Walker & Mally Woodhouse (Windows)
The Bure Singles Finals night will be held at Hevingham
on Friday 22-3-19
David Lamb, Robbie Lamb (both Halvergate), Margaret Harman (Woodbastwick), Tony Turner (Thorpe Marriott), Chris Mann, John Turner, Melvin Woods, Robin Amos (all East Tuddenham)
START TIME FOR ALL EVENTS IS 7.15pm, PLEASE ARRIVE BY 7pm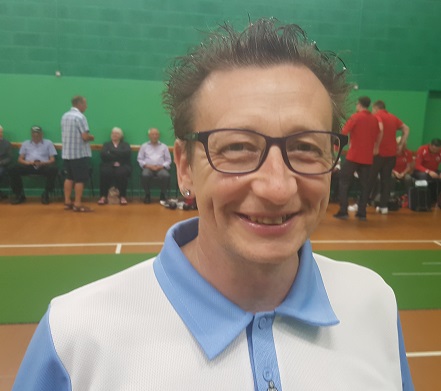 David Lamb - looking for another Bure Singles title