Wymondham retained the Summer Cup after a classic final against Bob Carter at St Faiths ended in a 6-2 points win for the team in red. It is the fourth time in the last five years that Wymondham have tasted cup glory after previously beating Deaf Sports in 2014, Thorpe Marriott "B" in 2015 and Kirby Bedon in 2017. Both teams opted to use just six players for the final with Jon Sparham, John Jeffery & Chris Mann of Wymondham facing Carter's John Turner, Simon Willies & David Lamb on mat one while Mark Linsdell, Debbie Sparham & Jack Pye lined up for Wymondham on mat two against Nigel Willard, Melly Woods & Jason Woods.
On mat one Wymondham started well with two good opening bowls by Jon Sparham putting them in control of the first end until an excellent wood by David Lamb earned his triple a 1-0 lead. A count of three followed on the second end as Carter moved 4-0 up but Chris Mann's triple hit back with a vengeance on the third end scoring five shots to stun the experienced Carter triple. David Lamb was forced to attack with his last bowl on the fourth end but to no avail as Mann moved 7-4 up. But it was Carter's turn to smile on the next end as John Turner opened up the head and Lamb was able to conjure up a count of four to regain the lead by 8-7. This was turning into a classic game and Wymondham hit back on the sixth end as a running bowl by Chris Mann earned two shots for a 9-8 lead before Carter scored a single to level the game at 9-9 on the seventh end. Jon Sparham drew onto the jack on the next end and his bowl stayed in place until an attacking wood by David Lamb sent the jack back but only onto another Wymondham wood. But an excellent last bowl by David Lamb, who was in great form, took shot for a 10-9 lead. The ninth end proved to be the start of a vital three ends for the Wymondham triple. David Lamb drew in a great last bowl for Carter but Chris Mann superbly took it out to take three shots and a 12-10 lead. This increased to 14-10 after the next end when Wymondham removed what had been an excellent wood on the jack played by Simon Willies. On the eleventh end Simon Willies moved to lead with John Turner at two but again two good lead woods by Jon Sparham kept the pressure on Carter and John Jeffery drew in a good back bowl. John Turner attempted to retrieve the situation but hit the block on an end that Wymondham took another two shots and a 16-10 lead. But David Lamb was not ready to concede yet, on the next end he played a super last wood to cut Wymondham's lead to 16-12 and another two shots to carter on the thirteenth end left Chris Mann's triple just 16-14 ahead. With the tension high both leads and number twos struggled to get near the jack on the next end but David lamb again drew in the first significant bowl of the end. Chris Mann though took it straight out to hold shot and leave his bowl sitting on the jack on an end that earned his triple two shots and an 18-14 lead to take into the final end. Jon Sparham drew his opening bowl onto the jack as the Wymondham triple kept the pressure up. When the skips turn to bowl came David Lamb attacked with his first bowl but failed to get the result he wanted. Mann tried to put in a short blocker but failed to reach the line. Another heavy fire shot by Lamb practically cleared the mat but one Wymondham bowl remained as shot giving the Wymondham triple a 19-14 win after a superb match.
On mat two a lovely opening bowl by Mark Linsdell was countered immediately by Nigel Willard who then added a perfect second bowl just behind the jack. But it was Jack Pye who had the last laugh when his superb last bowl made it three shots to Wymondham with Jason Woods playing too wide with his last wood. On the second end a great second bowl by Melly Woods took shot but a running bowl by Jack Pye gained the advantage. Jason Woods then drew in a good drawing bowl to take back shot wood which was followed by a running bowl by Jack Pye failing to find its target. Jason Woods then drew in another shot to reduce the deficit to 3-2. With Nigel Willard struggling to find the weight of the mat Debbie Sparham drew in just behind the jack on the third end. But Jason Woods again saved the day with his final wood while Jack Pye missed with another attacking bowl to leave the triples tied at 3-3. Nigel Willard had a better start to the fourth end drawing onto the jack and Melly Woods added a second. An attacking bowl by Debbie Sparham was somewhat fortunate to finish up as second wood. After Jason Woods pushed a Wymondham bowl behind the jack the Wymondham skip attempted to knock the jack back to it but used too much weight and only succeeded in sending the jack right back into the ditch where a Carter toucher was sitting to give Cater a 4-3 lead. The score remained the same after end five finished as a no scoring end. Melly Woods played the key shot on the sixth end that set his triple up to earn two shots and a 6-3 lead. Melly woods played another excellent bowl on the seventh end to take shot. Pye attacked with what looked a good wood but to little success. He was accurate once again with his second attacking bowl but Carter still came out of the end with shot wood and a 7-3 lead. Debbie Sparham played the shot of the end on the eighth which set her triple up for two shots to cut Carter's lead to 7-5 but Carter increased their lead with a single on the ninth end. The tenth end saw Melly Woods take shot with an excellent bowl before a fluke shot from Debbie Sparham left both woods touching the jack. A brilliant last bowl by Jack Pye took Carter's wood out of the head for a count of two leaving Jason Woods' triple just 8-7 up. The next end started badly for Wymondham when Mark Linsdell used weight with his second wood and only succeeded in losing both off the mat. But Debbie Sparham retrieved the situation with a good second wood on an end that Wymondham were relieved to score a single to level the game at 8-8. Good woods by Linsdell on the next end resulted in Nigel Willard attacking the head but his attempt failed. Carter were then under pressure and Melly Woods attacked with his second bowl but only managed to take one Wymondham bowl out. Jack Pye drew in a lovely back wood and also drew in a fourth bowl after Jason Woods was short with his first bowl. This left Jason Woods' last bowl vital for Carter and he did well knocking in a Carter bowl to cut Wymondham down to just one shot. Jack Pye's triple now led for the first time since the second end and things improved again on the thirteenth end as they scored another single to move 10-8 up. On the penultimate end Mark Linsdell drew in two good woods and was now winning the battle of the leads. Melly Woods was forced on to the attack with his second bowl but Linsdell's wood was still intact as shot. Jack Pye then consolidated the position forcing Jason Woods to attack and the Carter skip earned shot leaving the Wymondham triple 10-9 up going into the last end. On a replayed last end Nigel Willard managed to get the better of Mark Linsdell but a great forehand draw by Debbie Sparham drew applause from spectators and took shot. Unfortunately, her second bowl inadvertently opened the head giving Jason Woods the opportunity of sending the jack back which he did with relish. The jack was left near the ditch line with a Melly Woods bowl holding shot. Jack Pye had a clear opportunity to take shot but failed with his attempt and Jason Woods took his chance to ditch the jack and score three shots for a 12-10 win. This left the cup final finely balanced at the interval at 2-2 on points with Wymondham holding a three shot lead.
Jon Sparham, John Jeffery & Chris Mann of Wymondham faced Carter's Nigel Willard, Melvin Woods & Jason Woods on a repositioned mat two in the second half. Up to the tenth end there was little to separate these two triples and Chris Mann's triple held a narrow two shot lead. But on the other mat the momentum had swung decidedly Carter's way as John Turner, Simon Willies & David Lamb led Mark Linsdell, Debbie Sparham & Jack Pye by 10-3 after eight ends in a game that was running about two ends behind the other. Wymondham then changed playing order to try and disrupt the pattern of play with Mark Linsdell switching from lead to skip with Jack Pye moving to number two and Debbie Sparham to lead. The change made an immediate impact on the game as they scored two shots on both the ninth and tenth ends to cut Carter's lead to 10-7. While this was happening Chris Mann's triple had grabbed their game by the scruff of its neck to score three counts of two on successive ends to move 13-5 up and suddenly Wymondham looked odds on to win a match that had looked to be Carter's only minutes before. Jason Woods' triple could only mange singles on the last two ends leaving Chris Mann's triple winners by 13-7. Meanwhile on the other mat Mark Linsdell was displaying the form of his life in the skips role as the Wymondham triple took control. They dropped a single on the eleventh end but a single followed by a pair of twos on the thirteenth and fourteenth ends moved them into a 12-11 lead and Carter's dreams of a league and cup double were gone. Another three shots were added on the last end as Debbie Sparham, Jack Pye & Mark Linsdell completed a 15-11 win in a remarkable game that left Wymondham winners by 6-2 on points.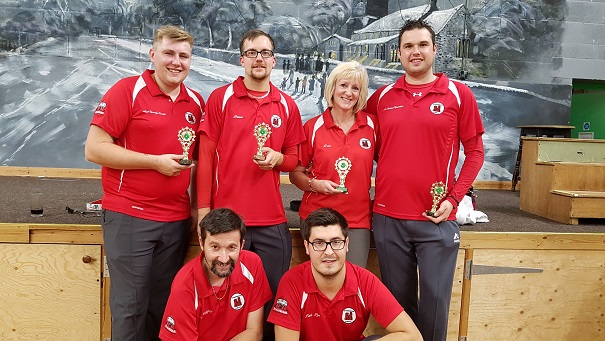 Wymondham's Mark Linsdell, Chris Mann, Debbie Sparham & Jon Sparham. At the front are John Jeffery & Jack Pye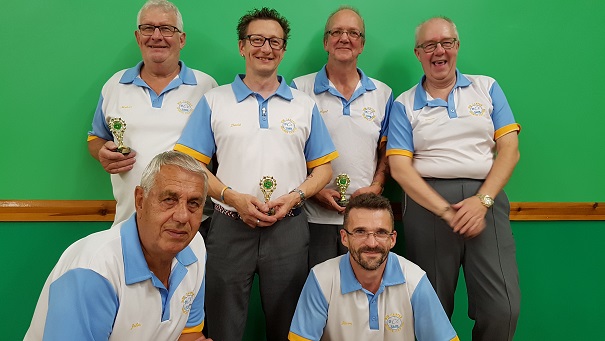 Bob Carter's Melly Woods, David Lamb, Nigel Willard & Simon Willies. At the front are John Turner & Jason Woods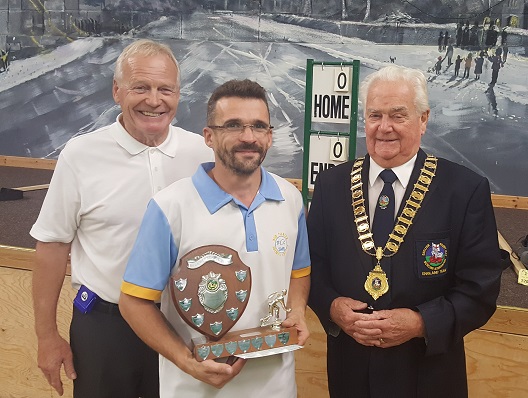 Jason Woods of Carter presented with Division One trophy by Will Hoggan & George Clarke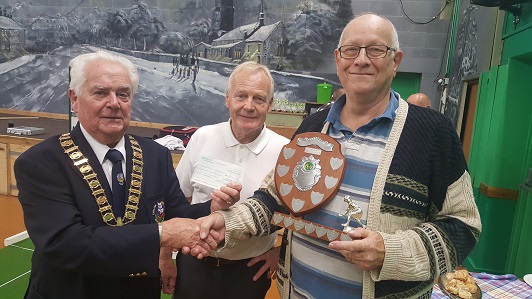 Bob Oatway of First Bus presented with Division Two trophy by George Clarke & Will Hoggan